Get to know the latest Blackmagic Design solutions:
Blackmagic announced several solutions that, once again, come to revolutionize the market. The new Blackmagic URSA Broadcast G2, a next-generation professional camera with a 6K digital film sensor, the new Micro Converter 12G models, incredibly small professional video converters that allow connection between home HDMI equipment and professional SDI and the new Blackmagic URSA Studio Viewfinder G2, a seven-inch wide viewfinder that is perfect for use in studios with the camera mounted on a tripod.
Blackmagic URSA Broadcast G2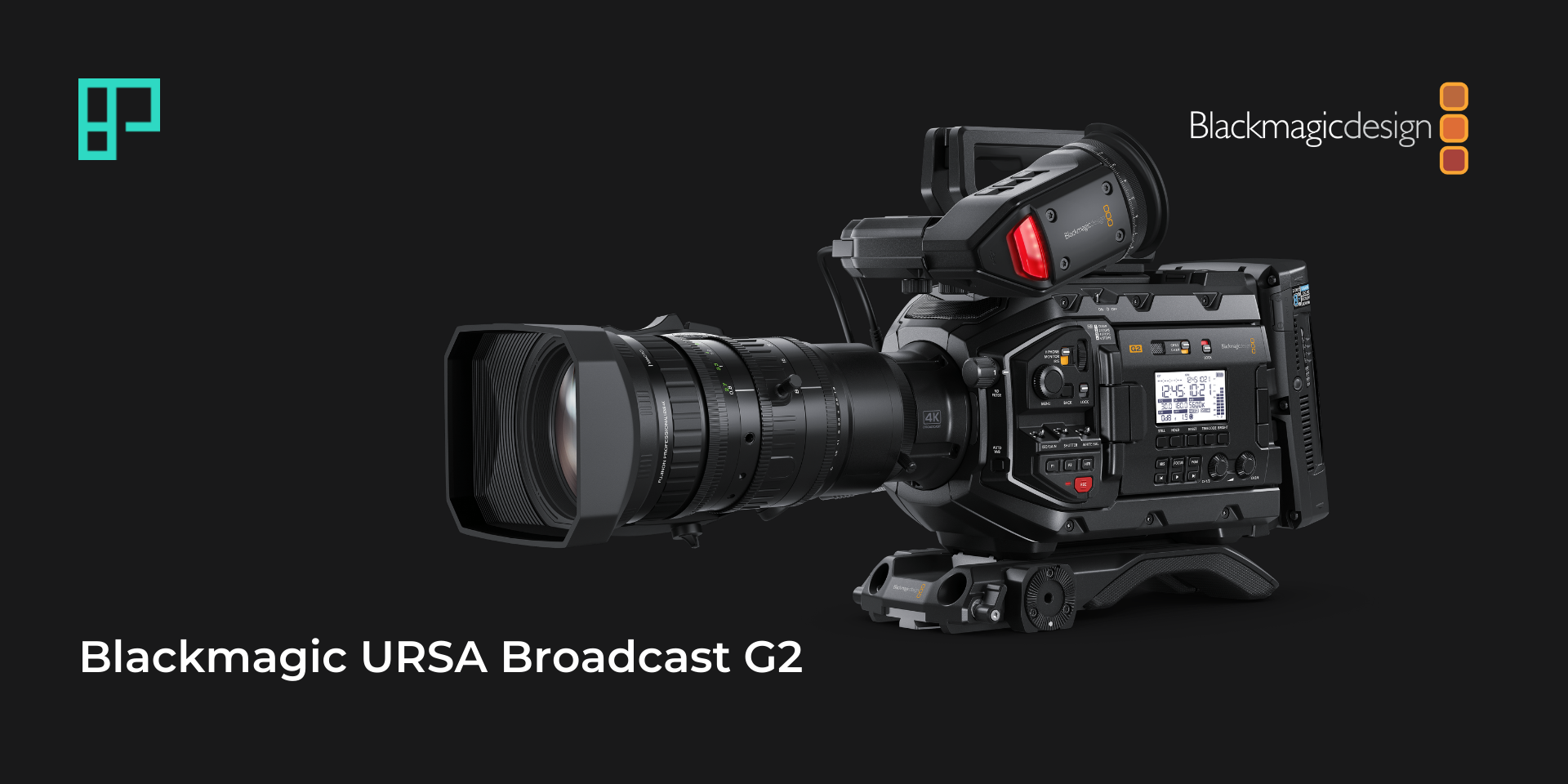 A next generation professional broadcast camera with 6K digital film sensor that brings digital film quality to both traditional and online broadcasters. The advanced 6144 x 3456 digital film sensor provides exceptional low light performance with dual gain ISO of up to +36dB as well as 13 stops of dynamic range. Blackmagic URSA Broadcast G2 also includes H.265 and Blackmagic RAW file formats, Blackmagic generation 5 color science, as well as a USB-C expansion port for external disk recording, and more.
The new Blackmagic URSA Broadcast G2 is an incredibly powerful camera designed for both traditional and online broadcasters. The 3 cameras in 1 design allows it to work as a 4K production camera, a 4K studio camera or a 6K digital film camera. It's a perfect solution for broadcasters because it uses the lenses and batteries customers already own. Customers can record to common SD cards, UHS-II cards, CFast 2.0 cards or external USB disks, using common file formats such as H.265, Apple ProRes and Blackmagic RAW. This means it's compatible with all video software and broadcast media management systems. Customers can even change the lens mount. No other broadcast camera is so flexible.
The large 6K sensor combined with Blackmagic generation 5 color science gives customers the same imaging technology used in digital film cameras. The 6K sensor features a resolution of 6144 x 3456 so it's flexible enough for broadcast and digital film work. When using B4 lenses, customers get a 4K window of the sensor for Ultra HD broadcast use. Then if customers change to a PL or EF lens mount, they can use the full 6K resolution of the sensor for digital film. With 13 stops of dynamic range, customers get darker blacks and brighter whites, so it's perfect for color correction. Using digital film in broadcast is a revolution in image quality.
The new URSA Broadcast features incredible low light performance so customers can shoot using ambient light or even under moonlight. The Blackmagic URSA Broadcast G2 features gain from -12dB (100 ISO) up to +36dB (25,600 ISO) so it's optimized to reduce grain and noise in images, while maintaining the full dynamic range of the sensor. The gain can be set via a camera switch, the LCD menu or remotely using the SDI remote camera control protocol.
For more information or to make an order, reach us!
Novos Modelos Micro Converter 12G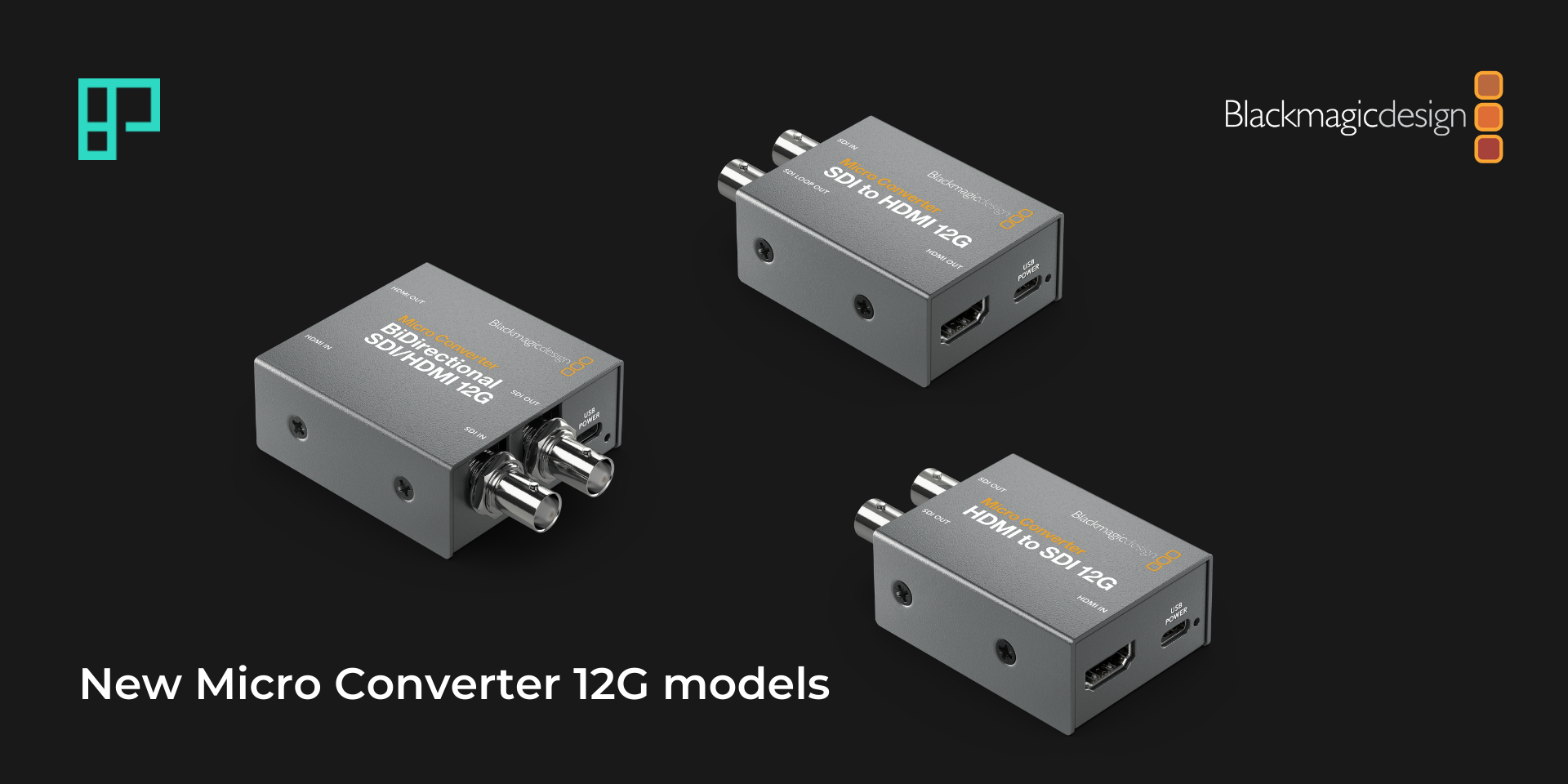 The new family of Micro Converter 12G models lets customers use HDMI equipment with professional SDI systems. These new models feature custom hardware developed by Blackmagic Design and include features previously only found on high end converters. Micro Converter 12G models include features such as 3D LUTs and more SD, HD and Ultra HD video formats.
The new Blackmagic Micro Converters are incredibly tiny broadcast video converters that let customers connect between consumer HDMI and professional SDI equipment. The rugged and miniaturized design makes them small enough to be used anywhere. Customers get professional 3G-SDI or 12G-SDI connections, depending on the models, so customers can work with SD, HD and Ultra HD formats up to 2160p60. Micro Converters use USB for power, so they can be powered directly from televisions or laptop computers.
The Micro Converter SDI to HDMI 12G model is perfect for monitoring in all SD, HD, 4K and Ultra HD standards up to 2160p60. It includes a 17 point 3D LUT for color calibrating monitors. Customers can also output the 3D LUT on the 12G-SDI loop output. Plus it supports DCI film rates including 4Kp24, 4Kp47.95 and 4Kp48.
The Micro Converter SDI to HDMI 12G model is perfect for connecting HDMI cameras and computers to professional SDI equipment. Customers get two 12G-SDI outputs for connecting to SD, HD or Ultra HD equipment. When working in HD it supports 3G-SDI level A and B. This model also supports film standards including 4Kp24, 4Kp47.95 and 4Kp48.
The Micro Converter BiDirectional SDI/HDMI 12G model can convert in both directions, in different standards at the same time. Customers can convert SDI to HDMI and HDMI to SDI simultaneously. Plus it supports camera control protocol conversion, so customers can use Blackmagic Pocket Cinema Cameras with professional SDI live production switchers.
For more information, get in touch with us!
Blackmagic URSA Studio Viewfinder G2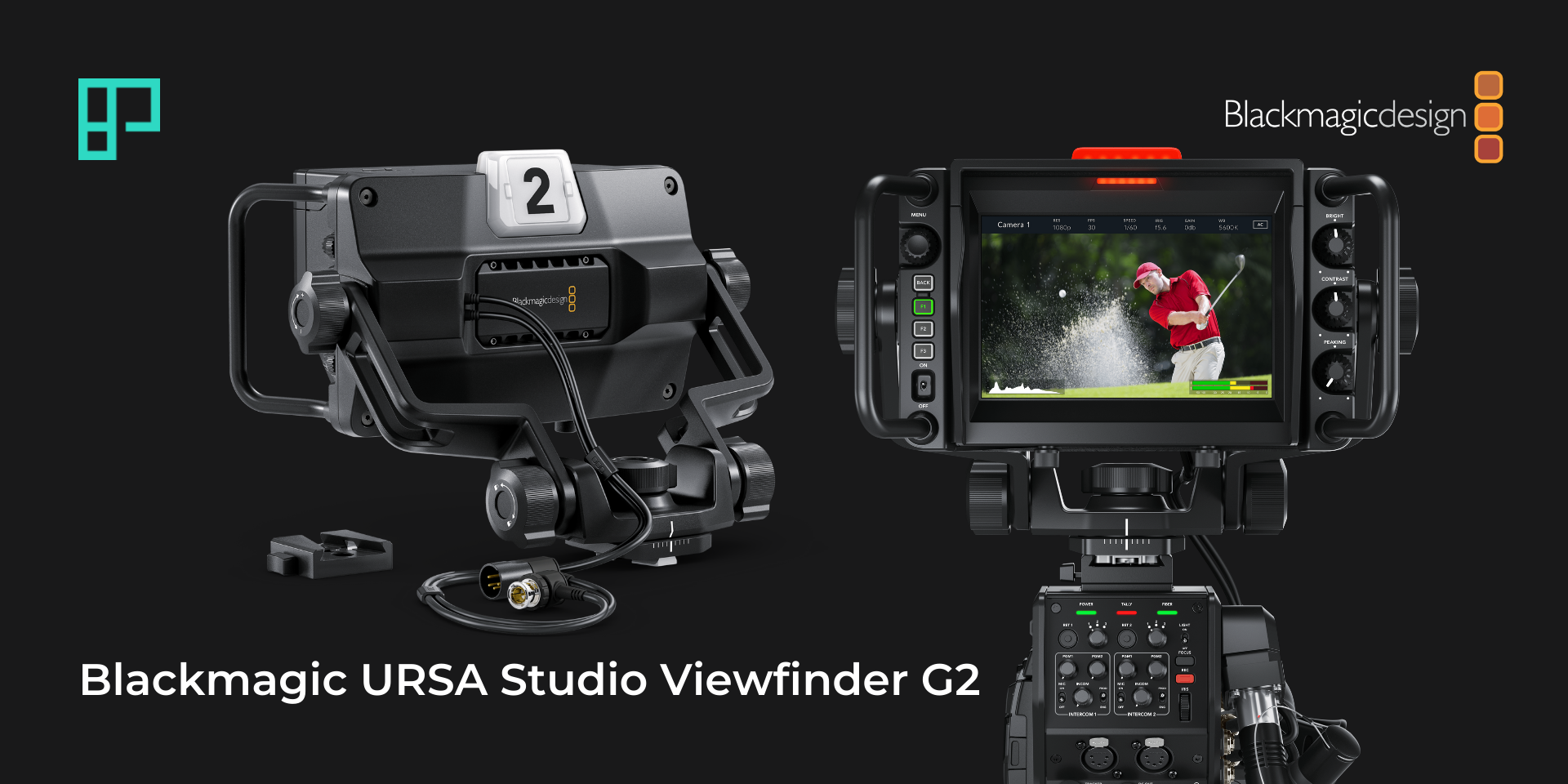 Blackmagic URSA Studio Viewfinder G2 is a new studio viewfinder model, with a super bright 2,000 nit display, ideal for use in bright sunlight. The new URSA Studio Viewfinder G2 is also available at a new lower price of US$1,495, a reduction of $300 which will help to make it even more affordable for customers to combine URSA Studio Viewfinder with URSA Broadcast G2 to turn it into the ultimate live production camera!
The URSA Studio Viewfinder G2 features on screen as well as separate physical controls for adjusting framing and focus features. The menu dial allows customers to scroll through menus and change settings as needed. However the most exciting controls are the 3 knobs on the right side of the viewfinder, which give customers smooth control of the LCD brightness and contrast, as well as directly adjustable focus peaking control. The focus peaking control allows customers to constantly adjust peaking to make focus easy at the zoom setting customers are using. Plus, there are 3 customizable function buttons customers can program to control features such as zebra, false color, focus peaking, luminance waveform, LUTs and more.
For orders or more information, contact us!!