Ross XPression is the fastest growing real-time motion-graphic rendering system in the industry and these are some of its highlights;
REAL-TIME
Uses intelligent caching to provide real-time access to content so there is no lag between a keyboard entry and system operation.
DESIGNER FRIENDLY
Employs clean user interfaces, logical menus, and controls based on other widely deployed creation tools, shortening any learning curve.
FLEXIBLE
It is compatible with SD, HD, in SDI or IP, UHD/4K in Quad-Link or 12G Single-Link SDI. XPression software is resolution independent and output card agnostic.
IP READY
XPression and BlueBox supports SMPTE ST 2022-6, SMPTE ST 2022-7 and SMPTE ST 2110. XPression Studio with SMPTE ST 2022-6 was deployed at Atlanta's Mercedes-Benz Stadium, the world's first all-IP stadium.
SCALABLE
It was always available as a software only solution all the way up to a turnkey hardware product. From a portable configuration all the way to purpose-built hardware, there is an XPression platform that suits all configurations.
ACCEPTED
This system is in use around the world, in multiple languages. Designers have embraced XPression as a design tool, making it their entry point into creative design and animation development, rather than starting in a desktop suite.
Built from the ground up to be a 3D system, XPression also fully supports 2D workflows, including clips, and seamlessly composites real-time 3D animation with media assets from today's hottest design applications. It is the most suitable system for use with graphics for news, E-sports, entertainment, branding, information channels, virtual sets or augmented reality.
XPression Engines are now available in three form factors, 1RU, 2RU and 4RU.
The 1RU allows for up to 3 channels (Video/Key) of HD-SDI 1080P and a whisper quiet 54 dB sound level.
The 2RU HD-SDI platform offers up to four channels (Video/Key) of 1080P or 1 channel (Video/Key) of Quad-link UHD/4K. For customers interested in the 2RU platform in SMPTE ST 2022-6, 2022-7 or 2110 IP.
For the customers who do need AES, physical GPIs and L Longitudinal Time-Code Input, the XPression 4RU platform options provide for HD-SDI, 12G or IP, using dual 25G SFP Cages for video I/O configurations of leading edge video production of 1080P or UHD/4K.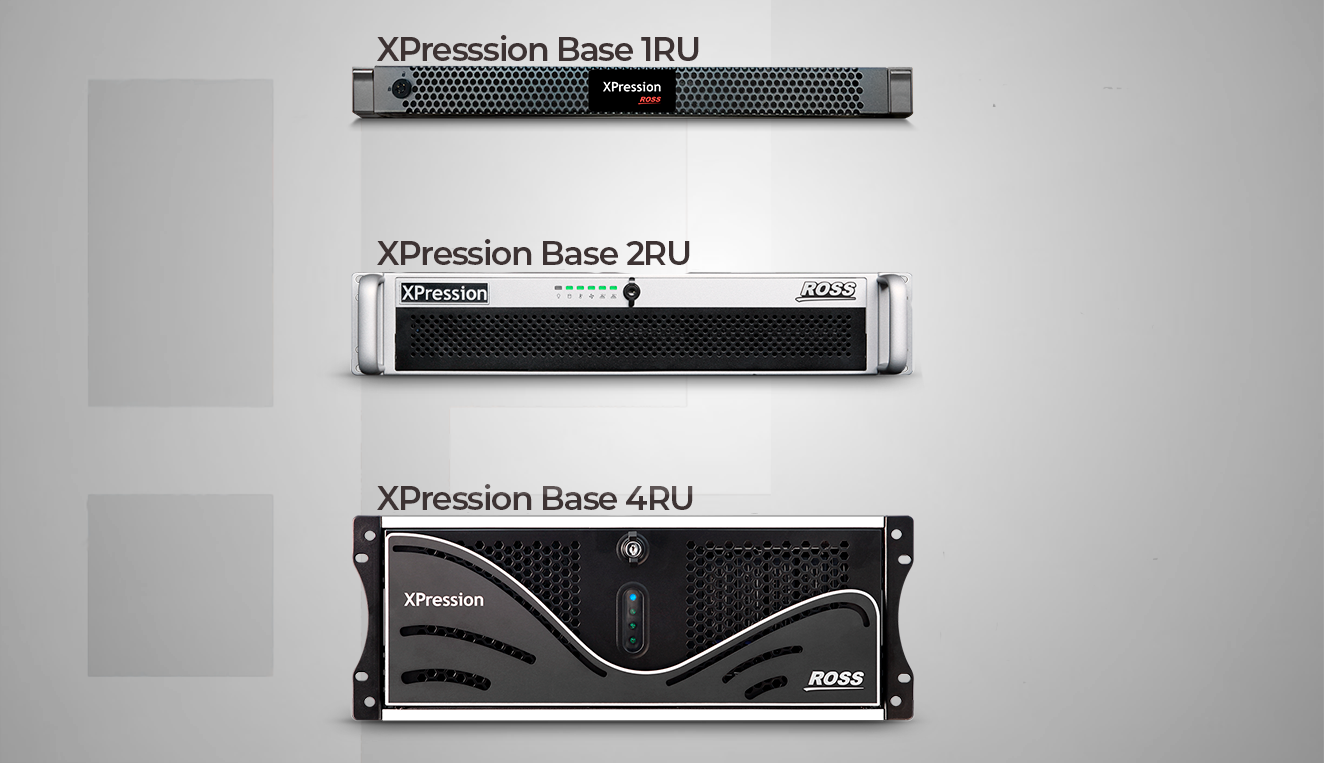 XPression Engine Editions
Multiple configurations of the Ross Xpression are available, allowing it to adapt to the available budget or any type of production. XPression Studio, BlueBox and Clips are available as a la carte selections. You can choose the edition software and, subsequently, the appropriate hardware configuration to suit your facility.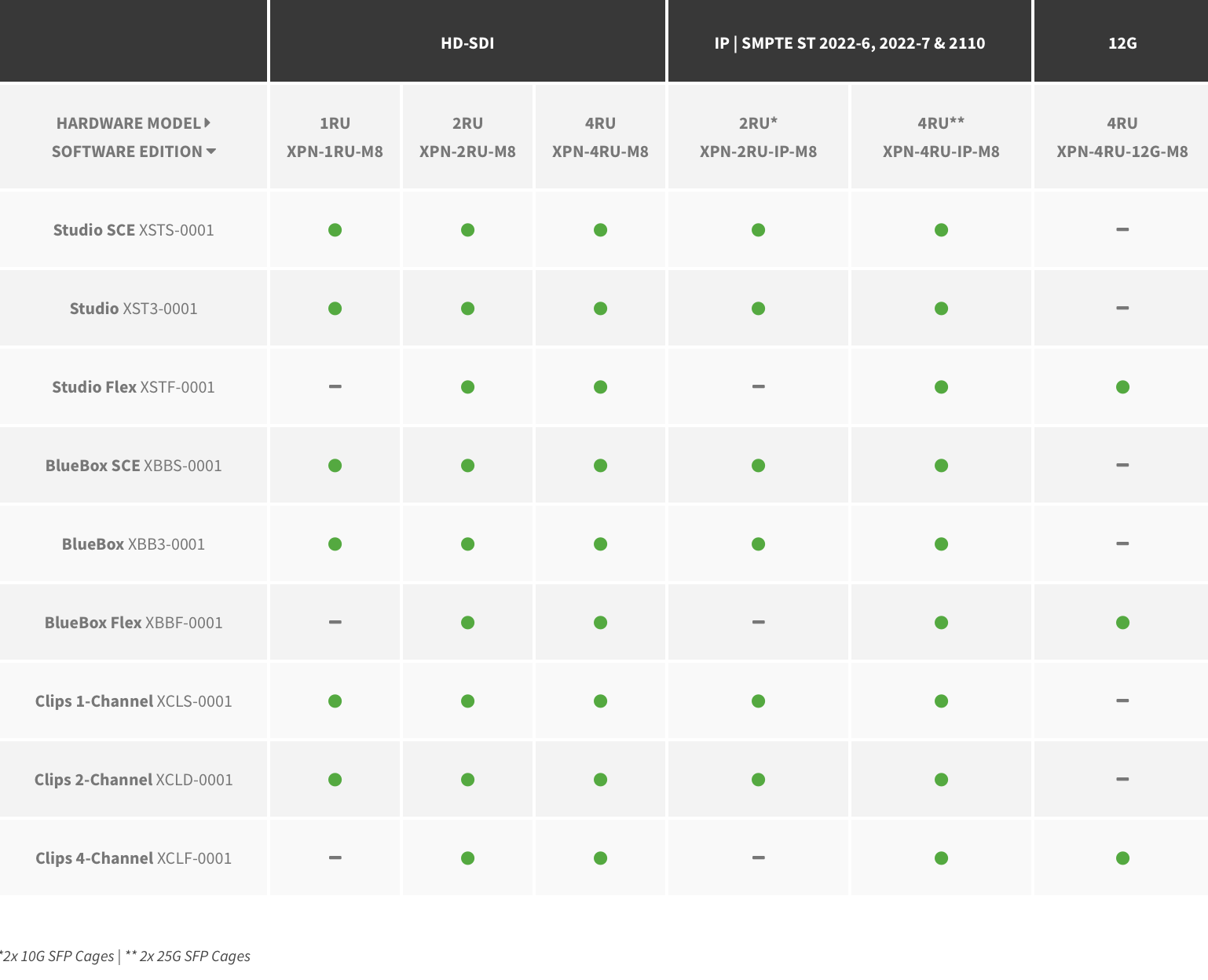 XPression Workflow Tools
In today's fast-paced news, sports, branding, and entertainment environments, the best graphics engines are only as good as the workflow tools that take those graphics to air. The XPression has a complete line of hardware and software products for efficient collaboration and media moving that maximize your investment and reduce costs.
Amongst the different solutions available, we would like to highlight the workflow tool Xpression Tessera, this tool is suitable for designing and playout control for multiple channel/monitor configurations. Can support pixel accurate video distribution across multiple XPression engines for seamless synchronization. Developed for large or dynamic stadium video screens, and now moving into studio configurations. XPression Tessera is supported on XPression MOS workflows and the Xpression Tessera SE version also offers region mapping and control of all channels within a single Xpression Studio.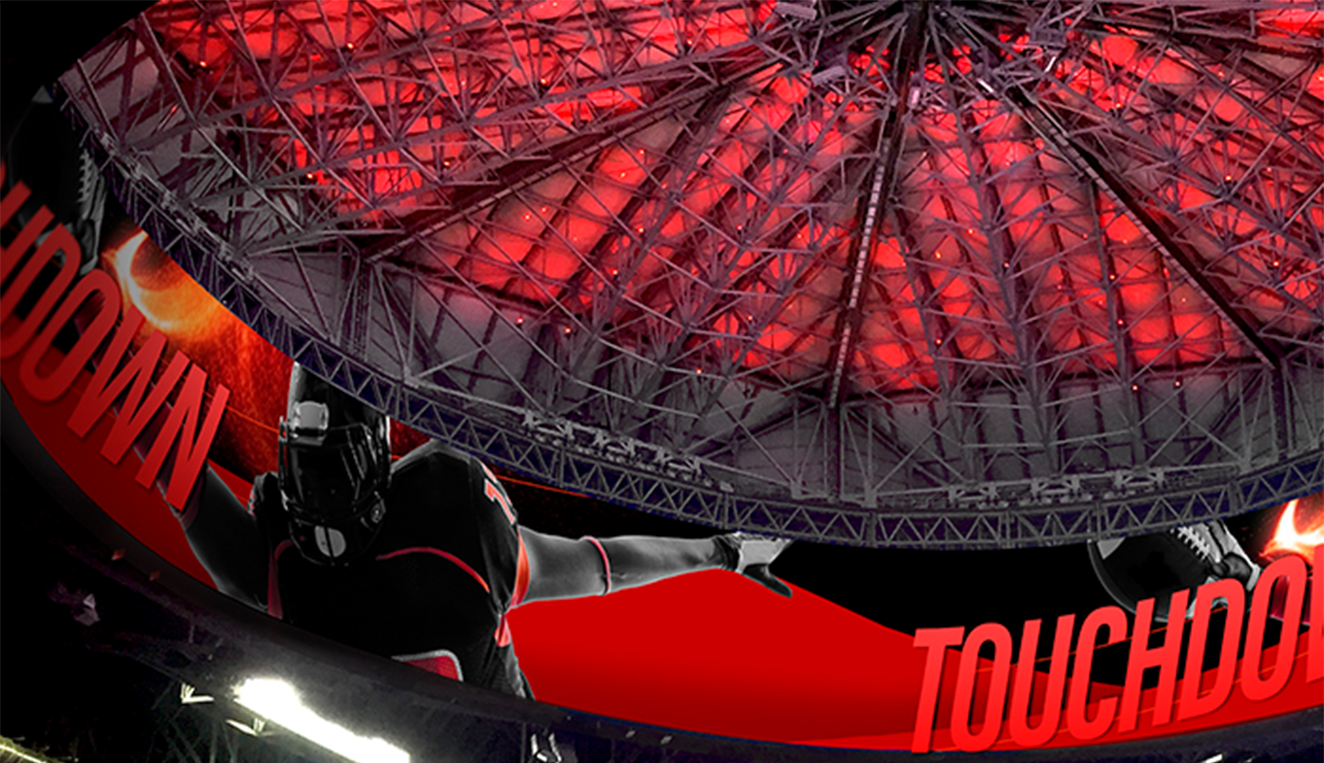 This product makes it possible to stream video through several Xpression outputs in real time and synchronize it all with one another to fill large videowalls. Contact us.