Compact stream devices for all events types
When talking about Live Stream, it is impossible to avoid picturing a complex workflow with several devices and all sorts of connecting lines and cables.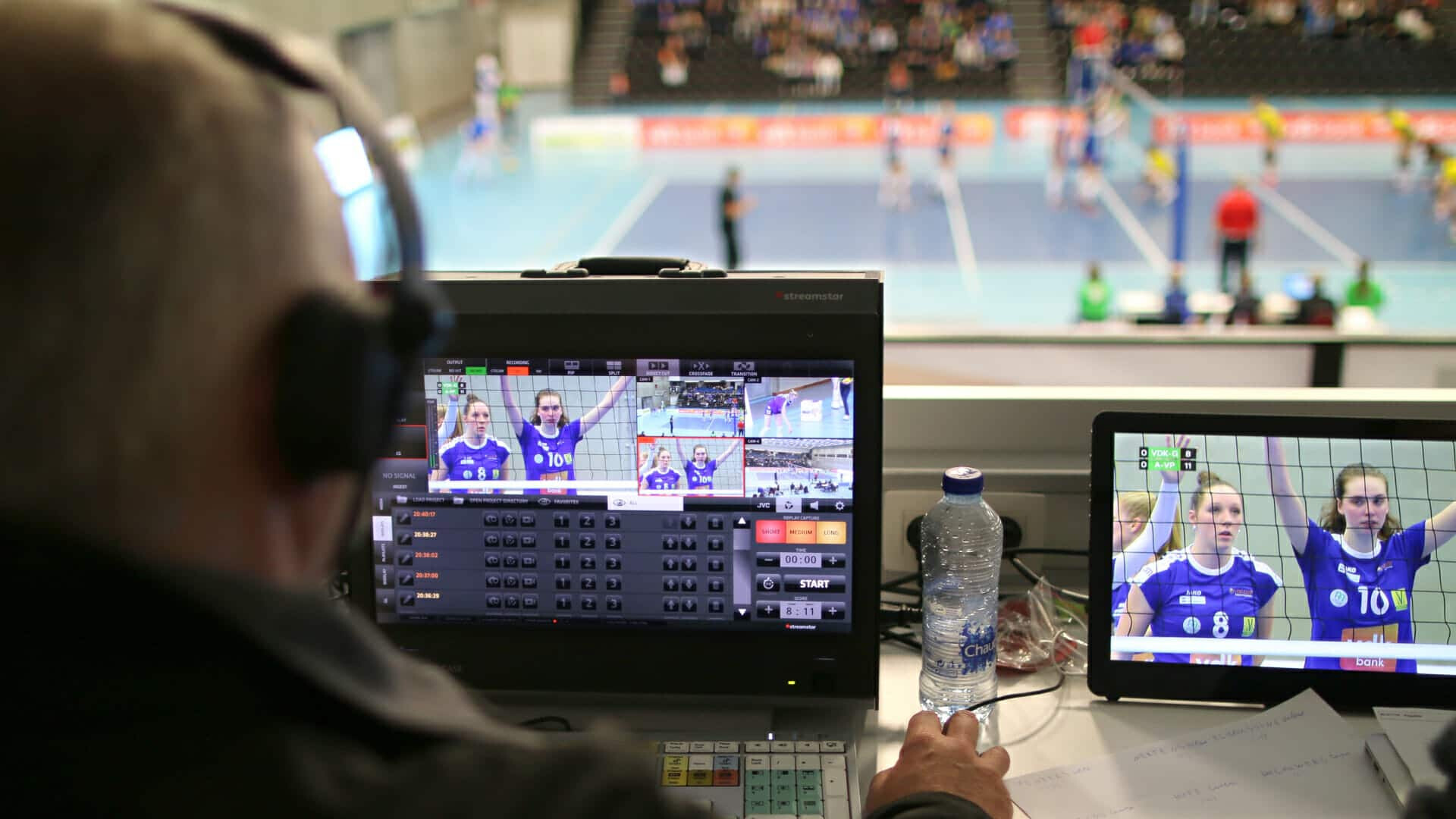 Streamstar has set off to design compact and lightweight all-in-one equipment, reducing costs with extra equipment, cabling and manpower.
We, at Pantalha, have already produced several webinars to talk about IPX and NDX from Streamstar where we've demonstrated the power these products have, and their versatility to be used in both small and medium scale events. The user interface is easy and intuitive and the production result is beyond professional.
Streamstar's equipment is designed to reduce the number of stream operators, putting powerful features such as switching, audio mixing and CG integrated within a touch of the touch screen.
While for most cases the NDX that supports the input of 4 camera signals is ideal, for cases where only 2 cameras are enough, there is the Streamstar NDX Mini option.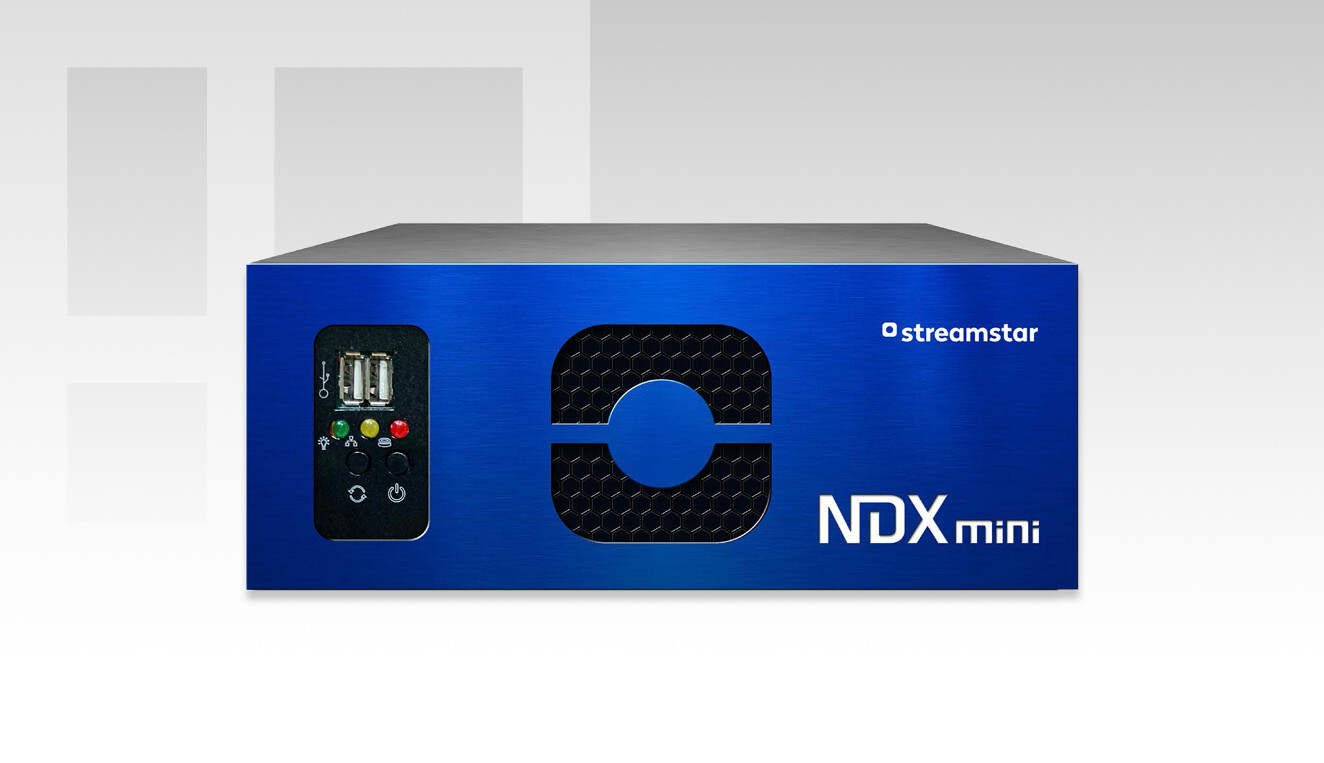 In addition to being even more compact and supporting two camera signal inputs, the "mini" version also does not include support for inputing or outputing resolutions other than 720p50 and 720p60 with H264 + AAC. NDX allows inputs and outputs with resolutions of 720p25, 720p50, 1080p25, 1080p50 with H264 + AAC.
Another difference between these versions is that the NDX Mini does not come equipped with PGM SDI-HD 3G outputs, as is the case with the NDX model. This mini version is also equipped with an integrated audio mixer, but not with multiview functionality.
In general, the specifications of the two versions are very similar, which sometimes makes it easier to decide which is the best option between the two.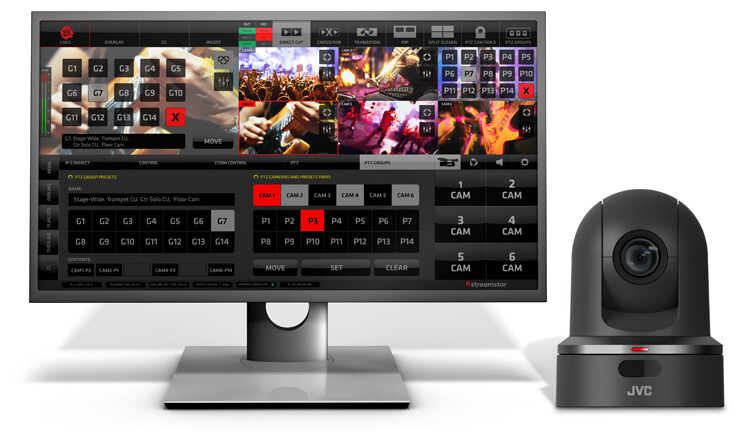 Although both models are able to communicate with a wide variety of PTZ cameras over IP, these devices have been tested with JVC cameras and already include support for PTZ JVC Smart control, CCU control and IP Tally, as well as the ability to control other aspects and settings of JVC cameras remotely.
The following diagram demonstrates some of the workflow possibilities with the NDX Mini:
This product may be more suitable for use in lectures, as support for webcasting, small conferences and radio stations with a simpler setup.
The NDX Mini promises to host a live stream event in just 5 minutes. Contact Us!
Click here to download the product sheet for NDX Mini
Streamstar X product family
Although NDX and NDX mini are suitable for various types of events, Streamstar has developed more specific products for sporting events, to respond to the needs so particular in these types of cases.
The Streamstar X product family is composed of models X2, X4 and X7. All of these devices have similar specs to those of NDX and NDX mini, with added support for "replay", recording and additional flexibility in terms of GFX ingestion.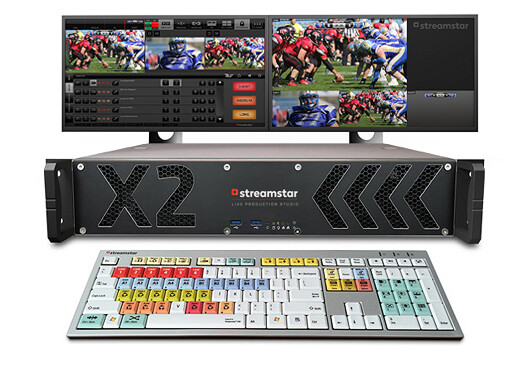 The X2, which until recently was the input equipment of this series, comes equipped with two camera inputs (HD-SDI / IP stream / NDI). While the X4 has four inputs, and the X7 six.
Streamstar recently launched the X2 mini, which promises the same performance as the X2, but with a few differences.
As we mentioned, the X2 allows you to connect cameras by HD-SDI / IP stream / NDI, while the mini version, which occupies a physical space of only 22 x 20 x 8.6 cm, is equipped with the same two inputs but with NDI / IP. In terms of outputs, the X2 allows connecting via HD-SDI / HDMI / NDI / RTMP / TS in contrast to the NDI / RTMP / S / TS connections supported by X2mini.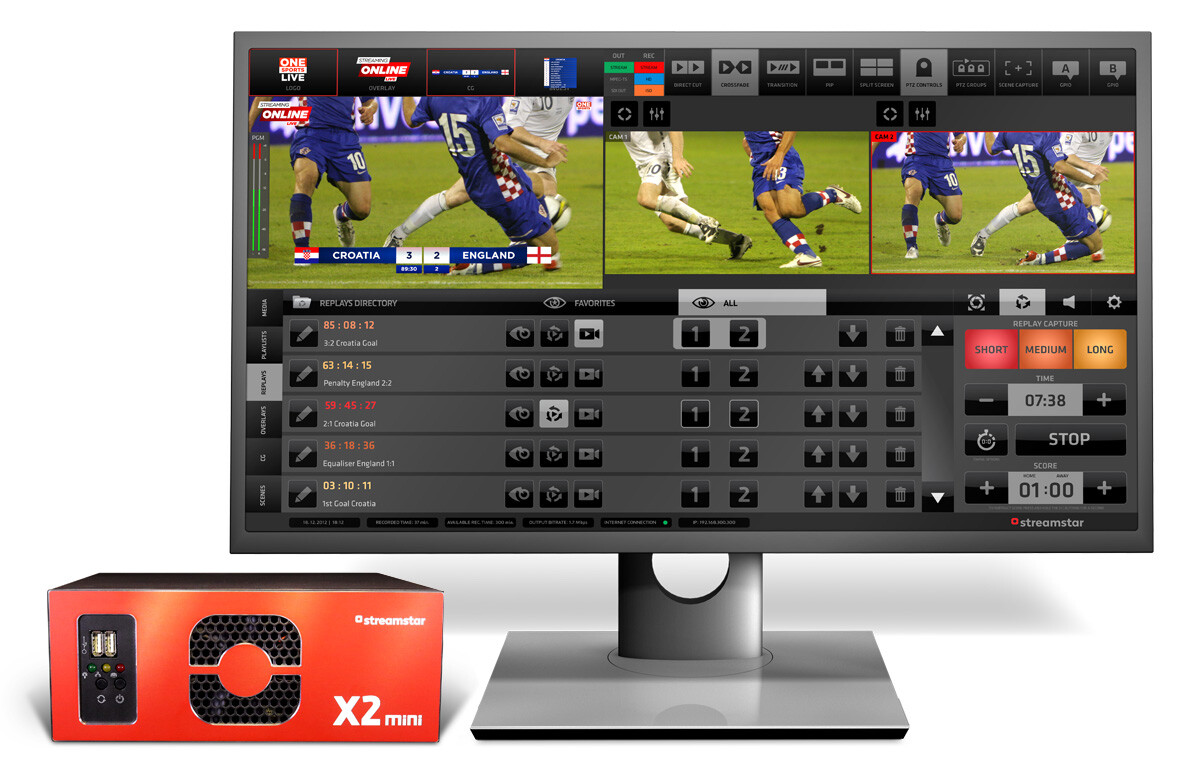 Another big difference is that the X2 mini does not come equipped with the usual audio and video mixers that are already seen in the X2 version. It does come with a single integrated audio mixer, similar to what was done with the NDX mini. In terms of recording, the X2 has the possibility to record ISO, PGM, Stream and Replays channels. The X2 mini is not equipped with this feature. Both versions are optimized for use with JVC equipment.
Eventhough it's small, the possibilities are endless as illustrated by this diagram: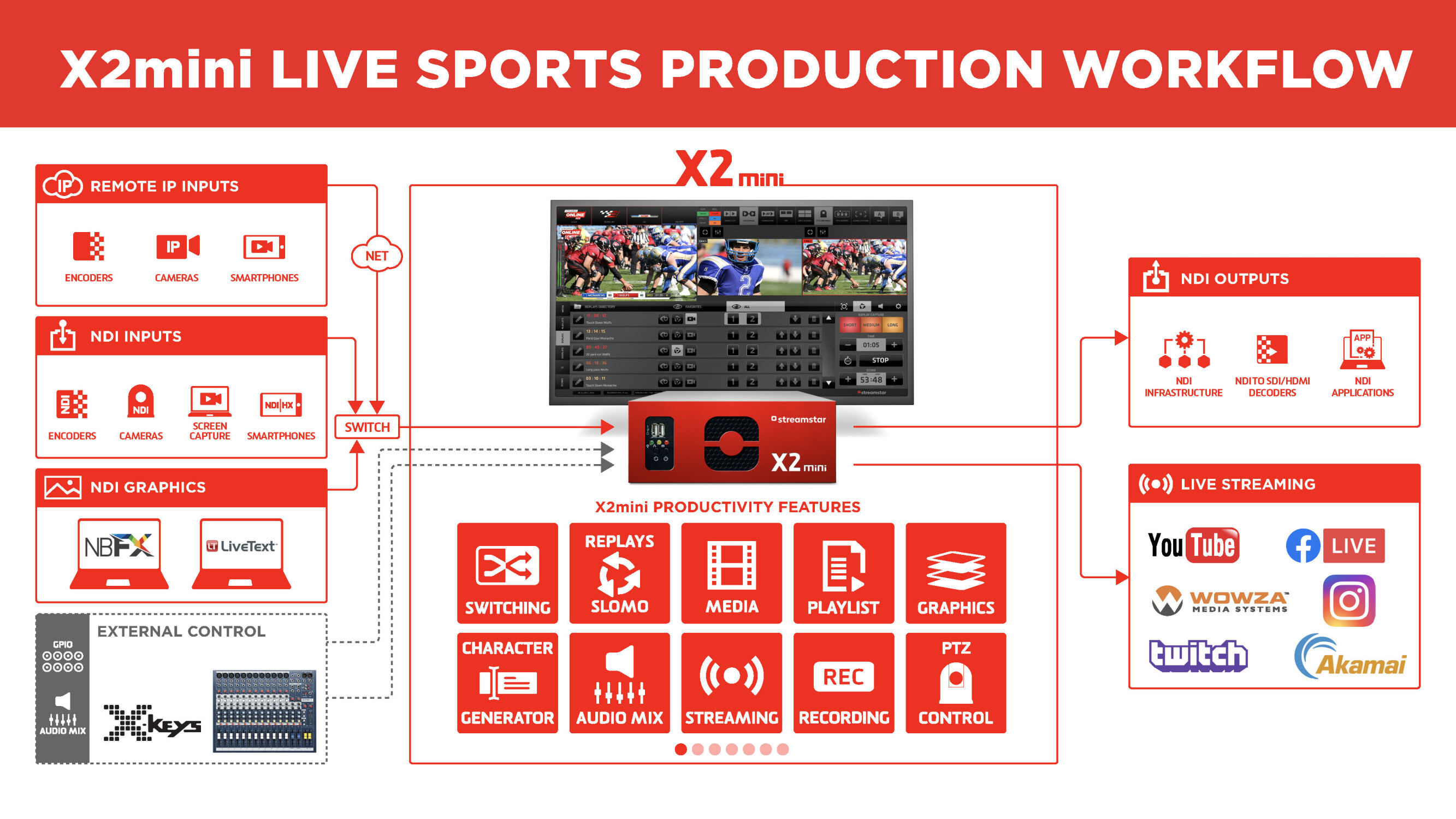 As a portable device, the X2 mini is suitable for productions of Ideal for small sports events, sports clubs, sports leagues and school sports teams. The price of the NDX mini and the X2 mini is extremely competitive in relation to the quality provided.
Would you like to know more about the various possibilities of the X series, or the X2 and X2 mini in particular? Contact us now!
Click here to download the information sheet for the X2 mini.