At a time when contribution and production workflows are increasingly turning to IP domain, Pantalha offers a range of solutions that allow saving and simplifying ecosystems with security, robustness and all the quality required by Broadcasters and Producers.
INTINOR - Transmission, Reception & IP Contribution + Remote Production
Intinor's Direkt product line is ideal for transmitting signals to WebTV and for Broadcast signals contribution over the Internet or dedicated lines. With the support of protocols such as TCP, UDP, RTMP, HLS, SRT, Intinor's solution is perfect for contribution, reception and distribution in order to reduce satellite and even dark fiber costs. With the possibility of transmitting point-to-point and point-to-multipoint, the system's resilience and response has exceptional quality. Intinor has also developed the BRT (Bifrost Reliable Transport) protocol with such resilience that the signal remains intact even with losses of up to 60% of data packets in case there is poor network quality between devices.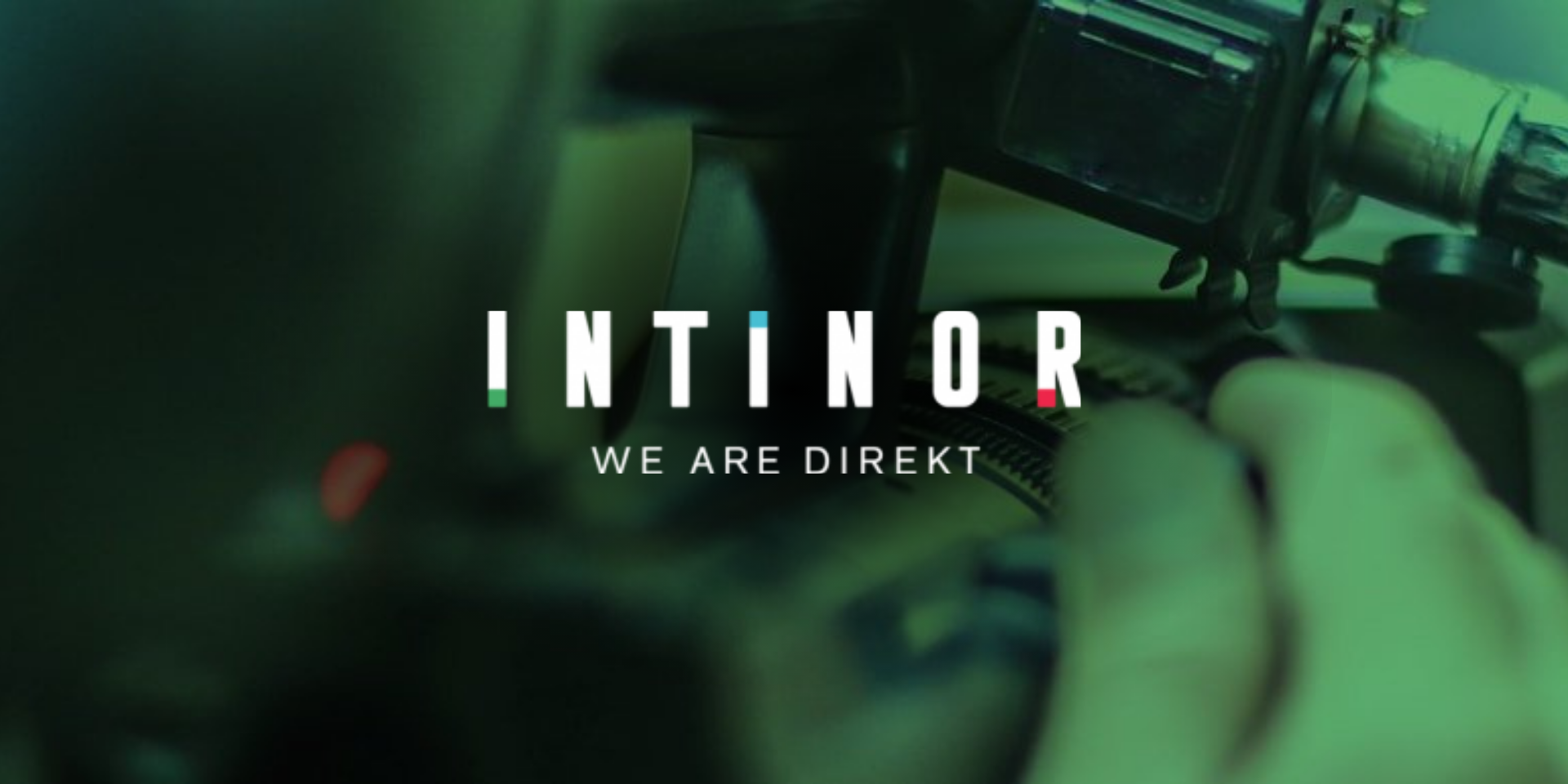 For remote productions, these devices have also been increasingly developed for that purpose, now supporting control and dispatch of CCU's, Tally's and Intercom. The support for less than 500ms latencies (Ultra Low Lantency) that will allow more accurate and synchronous remote productions, with the latency of a Zoom call but without compromising video and audio quality for a Broadcast production it was just released. With Video Mixer and Multiviewer features, Intinor equipment allows you to do all the production remotely, using the least amount of hardware possible.
Encoder: http://www.intinor.se/en/products/direkt-link/
Router (Wich can also be used as Encoder, Decoder, Transcoder): http://www.intinor.se/en/products/direkt-router/
Decoder: http://www.intinor.se/en/products/direkt-receiver/
Use Cases: http://www.intinor.se/en/usecase/
MATROX - Encoding / Decoding + Remote Production Solution
The Monarch EDGE Encoder and Decoder pair is the ideal equipment for most professionals on the remote production's market. Set apart from the rest of the market competition for its ability to add timestamps to up to 4 inputs on the encoder, Matrox's solution allows for truly synchronous remote production for productions that require more precision. Additionally, each input can be sent to up to 4 destinations, each of which can have its own encoding settings, for a maximum total of 16 different destinations.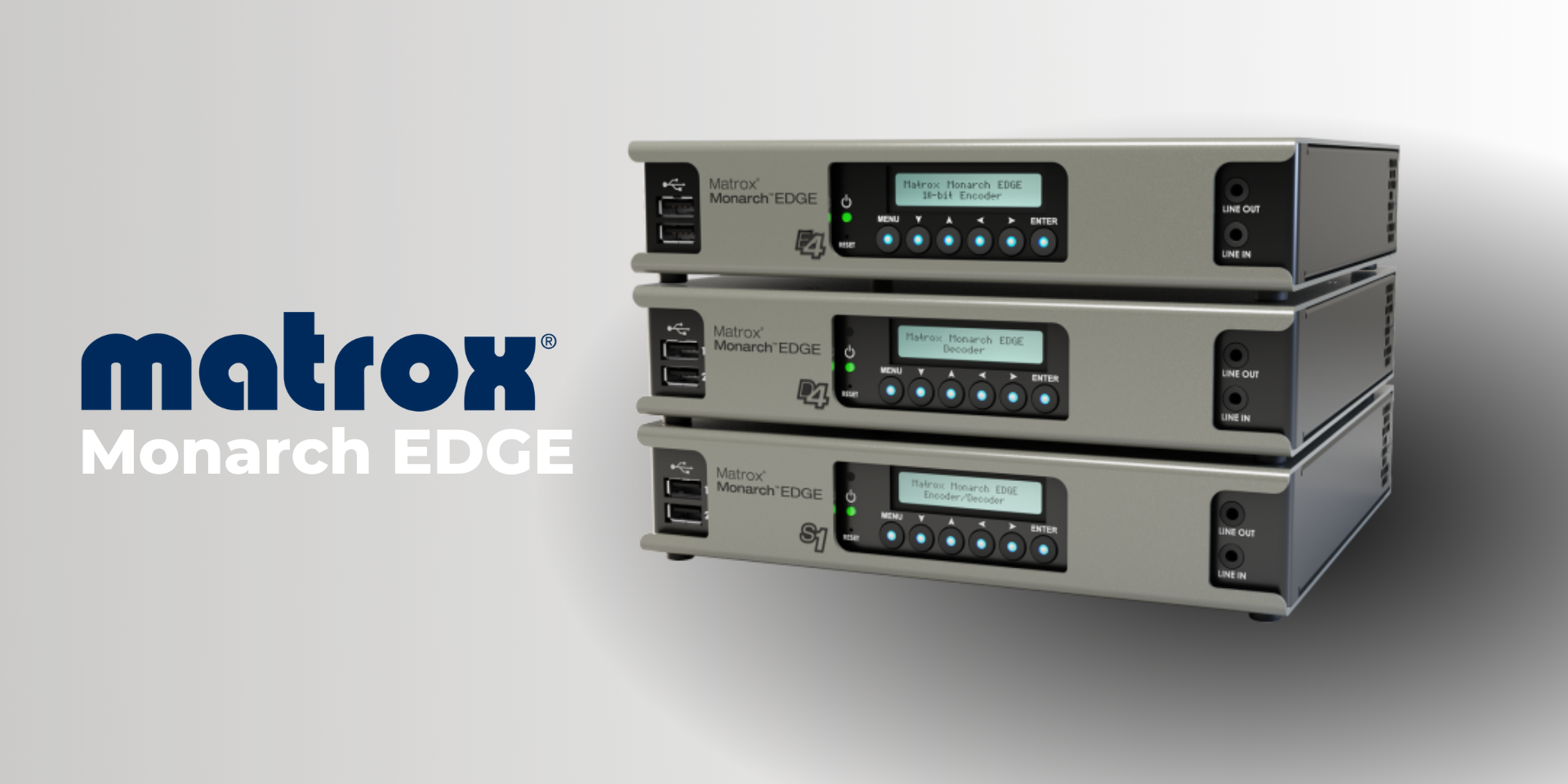 With up and downscaling features, framerates conversion (NTSC -> PAL for example) and support for widely adopted protocols such as SRT, RTMP and RTSP and MPEG-2 TS, the Matrox solution can be used over the Internet or dedicated network for a wide variety of applications, from WebTV to Remote Productions.
Also noteworthy is the support for a 4K signal via 12G or Quad-Link 3G, support for 10-bit and 4:2:2 encoding and fiber connectors for future support of uncompressed signals.
DIGIGRAM IQOYA TALK – Audio Remote Contribution
IQOYA TALK is the ideal solution for transmitting audio from remote locations with network problems, such as football stadiums on match days. These "commentator boxes" allow any producer or journalist to send their audio feed directly to a control room, continuity, control room, etc. Through multiple connections, from 2x 4G/LTE SIM card slots, 2x Ethernet ports or Dual Band Wi-Fi.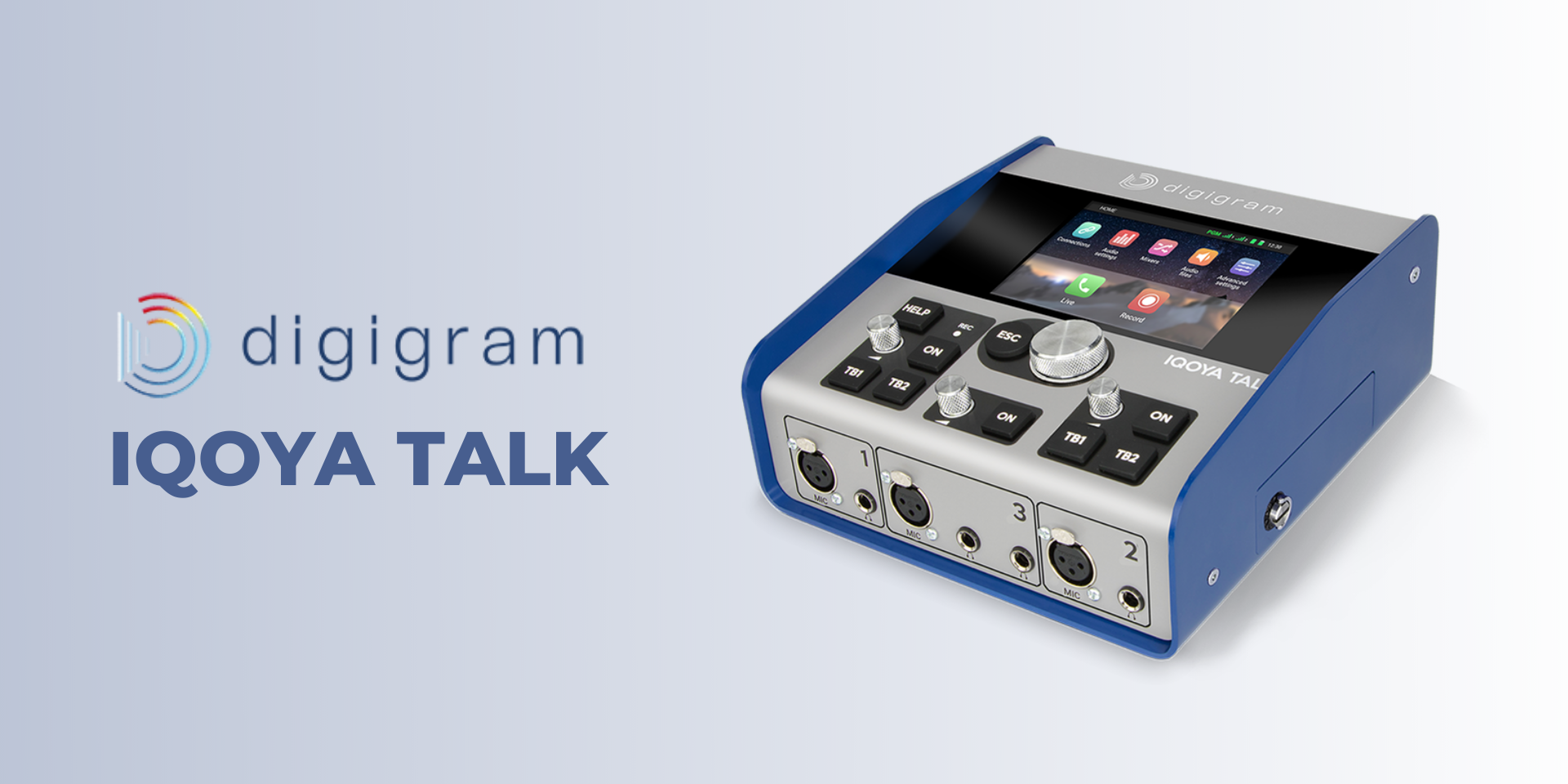 With superior audio quality, the hardware was designed for its operators: with a touchscreen control LCD, intuitive and similar to the smartphone interfaces we are used to, even the less technical journalist will find it easy to operate the equipment. With up to 2 hot-swappable batteries, the equipment can run up to 8 hours straight, charge a smartphone and operate 3 microphone inputs, 4 headphone outputs this solution allows for a variety of uses and production scenarios.
Additionally it is also possible to make all settings in advance so that when journalists arrive at the production site, they simply need to load the pre-recorded settings according to their preferences.
For more information, feel free to contact us!
MULTICAM AIRBRIDGE – Individual or Group Remote Contributions
MultiCAM, a company originally dedicated to Visual Radio solutions, developed during the pandemic one of the most practical and professional solutions for remote guests. Up to 4 guests can be part of your production, without them having to go to your site of production due to impossibility or option. From the operational site, a link or email is simply sent to the guest(s), who only need a web browser and Internet connection in order to access. All camera and audio control, and even the webcam's Gamma and Zoom, is done on the production side so that guests won't have any problems or need more advanced technical knowledge.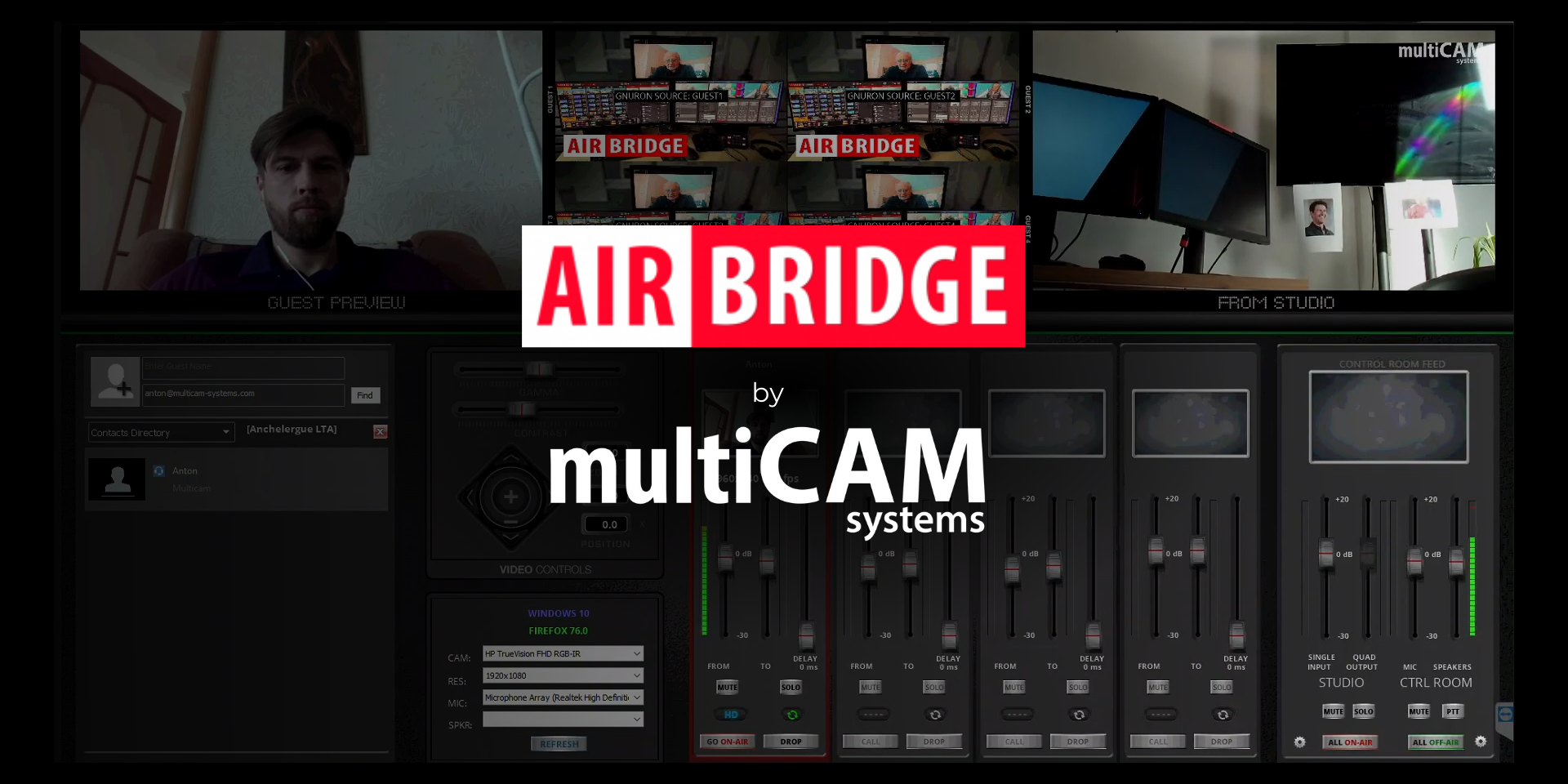 With a MixMinus feed, each guest can listen to the other guests without listening to themselves, and can receive an individual or common video feedback feed to feel more involved and present in the production.
Since each guest has their own SDI output on AirBridge, the solution is much more professional and elegant than other solutions like Microsoft Teams, Zoom or Skype, as integration with the Mixer or Video Matrix is straightforward, without conversions, no screenshots and no watermarks.
For more information, get in touch!
DEJERO LivePlus Windows – Individual Remote Contribution
Dejero's well-known LivePlus solution of mobile contribution via Android and iOS, allows its customers to go live as quickly as possible with the highest quality possible. From breaking news, to guest interviews, to professionals working from home, this solution responds to situations where traditional broadcast equipment is not possible or available, allowing for high-quality broadcasts.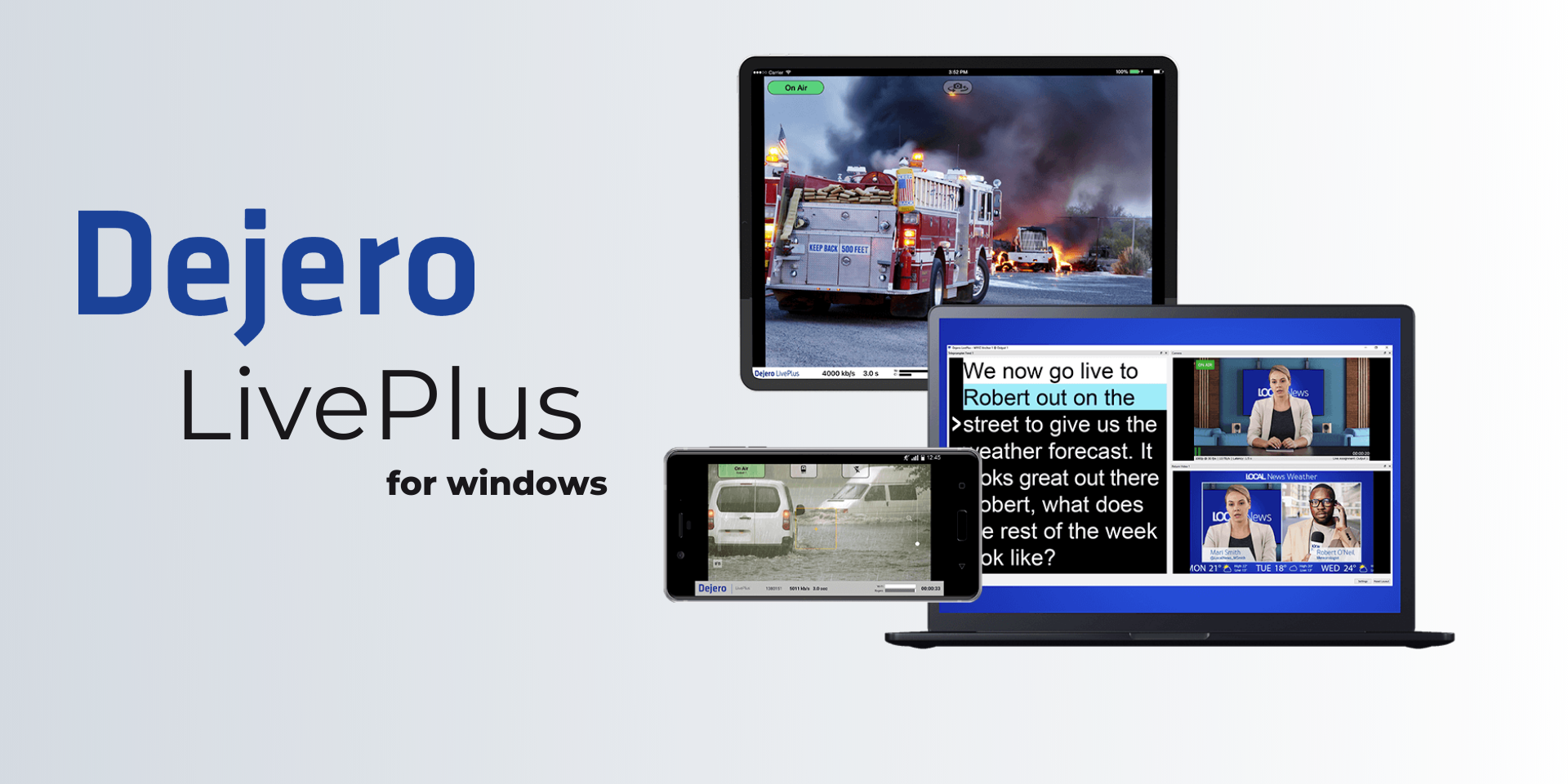 Now Dejero has launched the Windows application turning laptops and computers into professional video transmission equipment. Simultaneously, the application can receive ultra-low latency feedback feeds and/or telepoint feeds. With IFB functionality, a customizable interface and the ability to add network and Wi-Fi connections for reliable transmission, this application is extremely good and with all the necessary functions for a secure Broadcast, alternative to videoconferencing platforms with all its limitations.
To find out which of these solutions is the best for you, get in touch!!