ERECA is a French manufacturer of products and systems for fiber optic signal transmission. Since 1989, they have been developing solutions based on digital video, audio, and data transmission for CCTV, Broadcast, and Corporate.
ERECA Solutions for Broadcast:
STAGE RACER & STAGE RACER 2
Solutions for the transmission of HD/4K camera signals, up to 24 HD-SDI, IP, GPI, Audio, Serial data, among others) signals via optical fiber. These solutions are capable of creating and managing simple or complex connections in a Television Complex, regardless of its topology.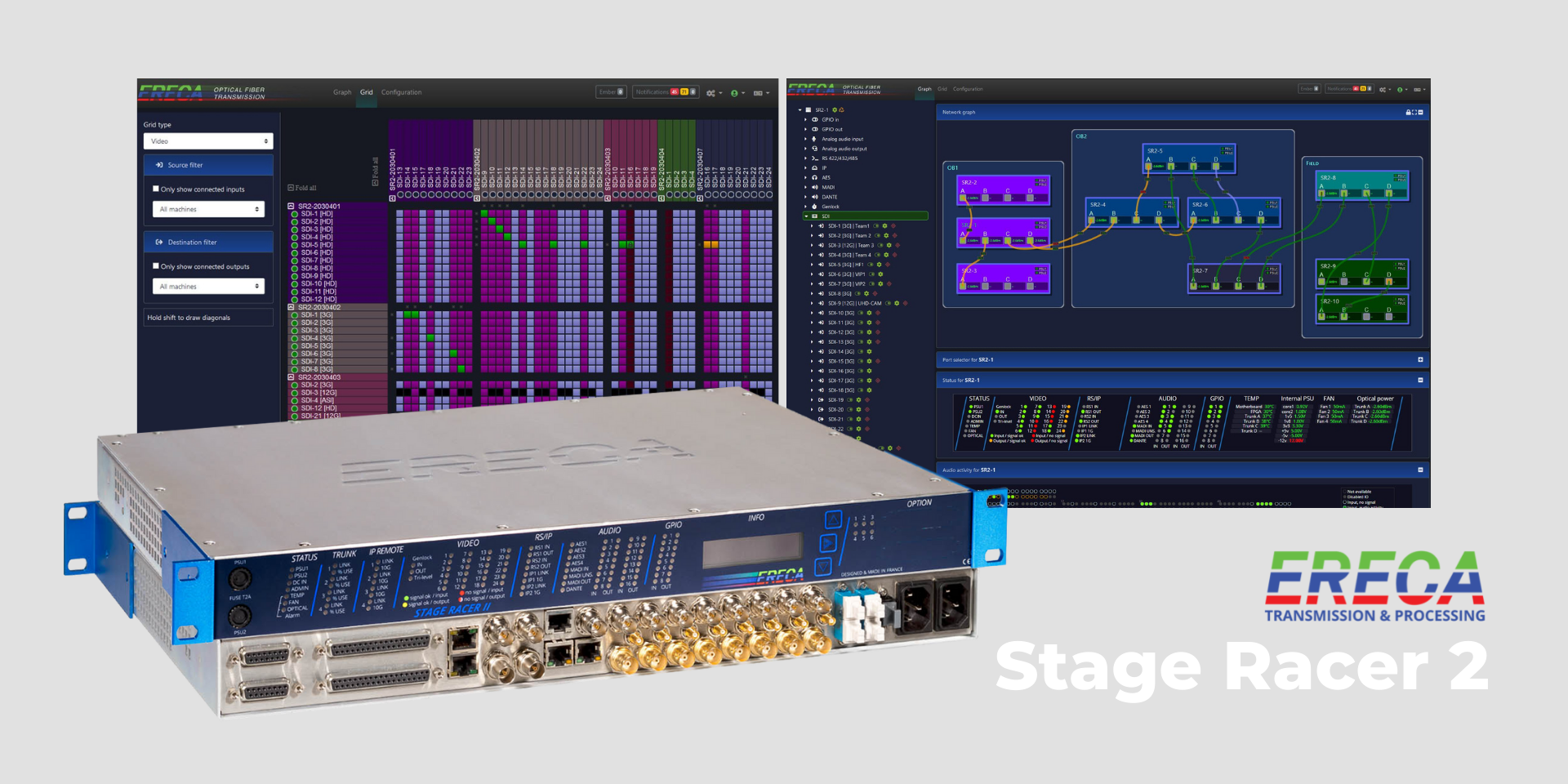 STAGE RACER 2: Solution for transmission, routing, distribution and processing.
STAGE RACER 2 is a complete solution for broadcasting broadcast events over fiber optics. This solution can be indicated for a simple point-to-point connection or in more complex star, ring, or linear topologies in television production.
It also supports long-distance remote transmission and allows linking between two distant locations while using dark fiber.
Stage Racer 2 is designed to accept all types of signals on the same device without an external adapter. Internally, these signals can be associated, routed, and distributed to all other machines on the network.
This solution also offers processing features such as audio embedding/de-embedding, Audio shuffling, Audio SRC, Frame buffering, delays, among others.
The network can be controlled through an intuitive web interface or through automation systems such as Cerebrum, KSC Core, VSM, among others.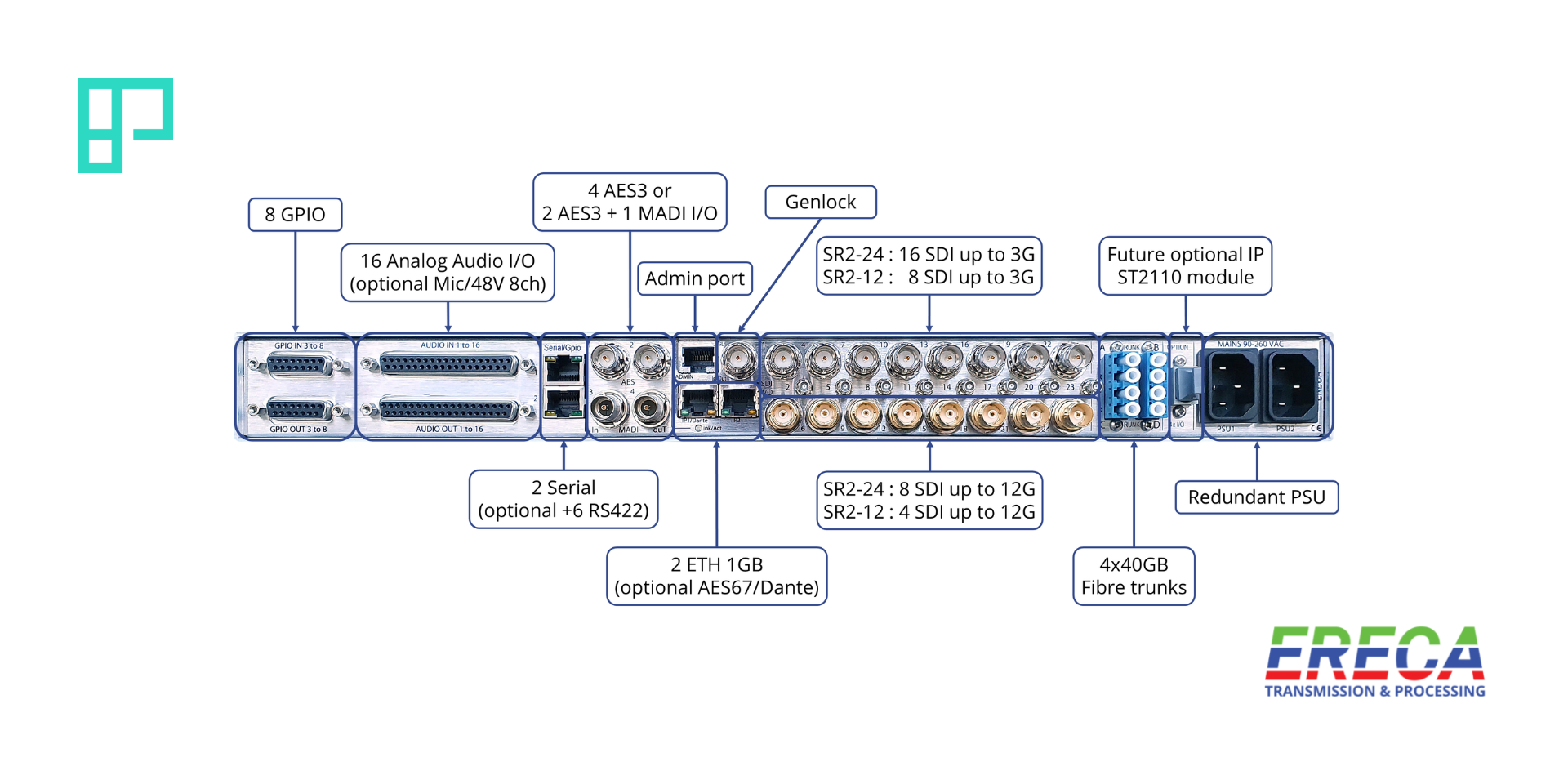 STAGE RACER: Peer-to-Peer Solution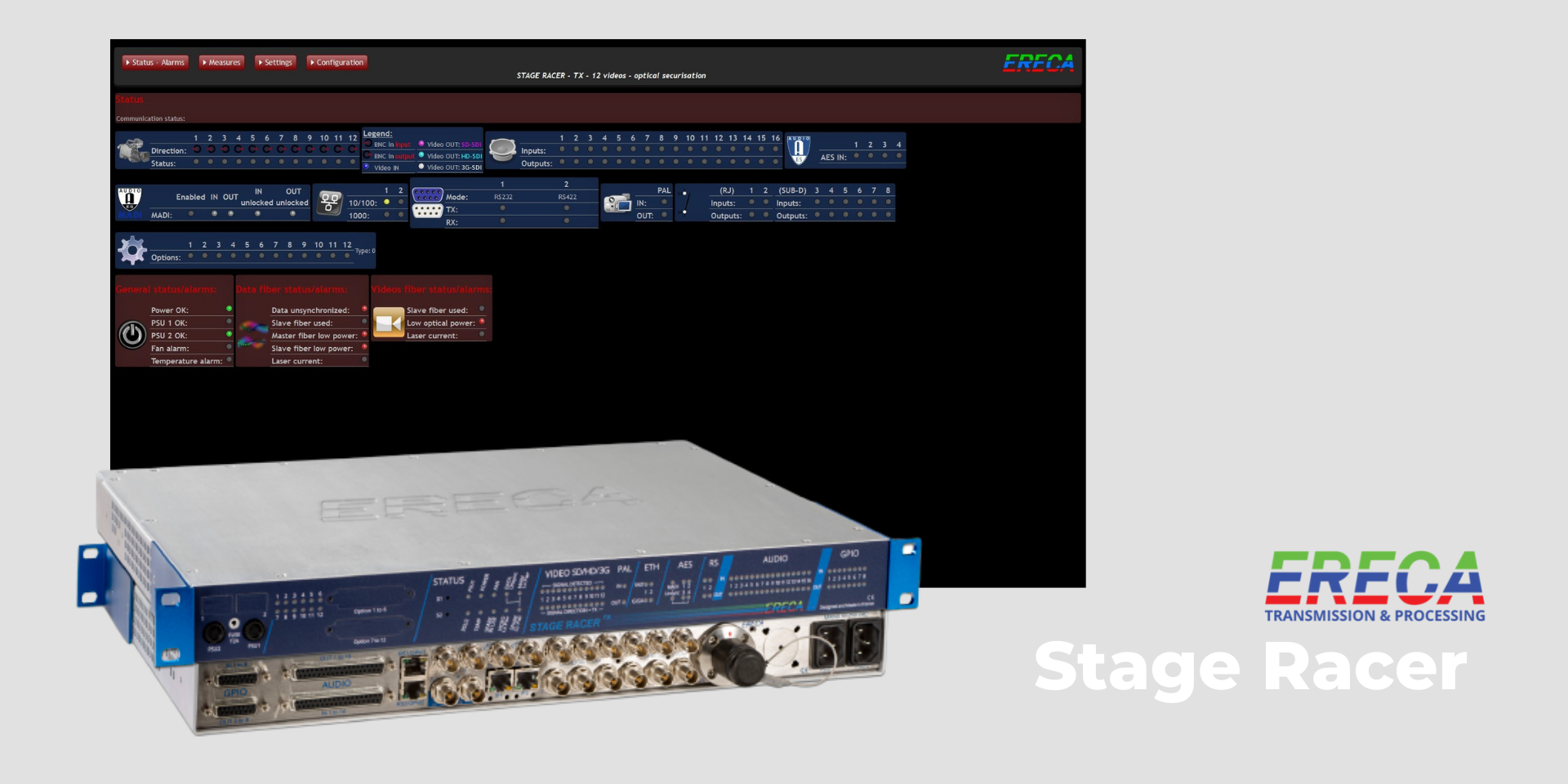 Stage Racer is a complete point-to-point fiber optic transmission solution for outdoor broadcast events, outdoor vans, commentary booths, studio-stage links, etc.
This solution is ideal for transporting all necessary signals to the same device and is available in various types of configurations so that they can cover all types of requirements.
Ereca's unique "On the Fly" feature allows you to configure HD-SDI channels and carry other "common" signals that are needed with video.
An internal web server allows remote control and configuration and monitoring of the equipment: alarms, optical power measurements, data configurations, configurations of the direction of each video signal, among many others.
For local management, each unit has an LED display for signal and alarm presence. All signals are transmitted on 2 single mode fibers.
(An automatic redundancy option for the optical cable is built into the modules just by adding a second connector.)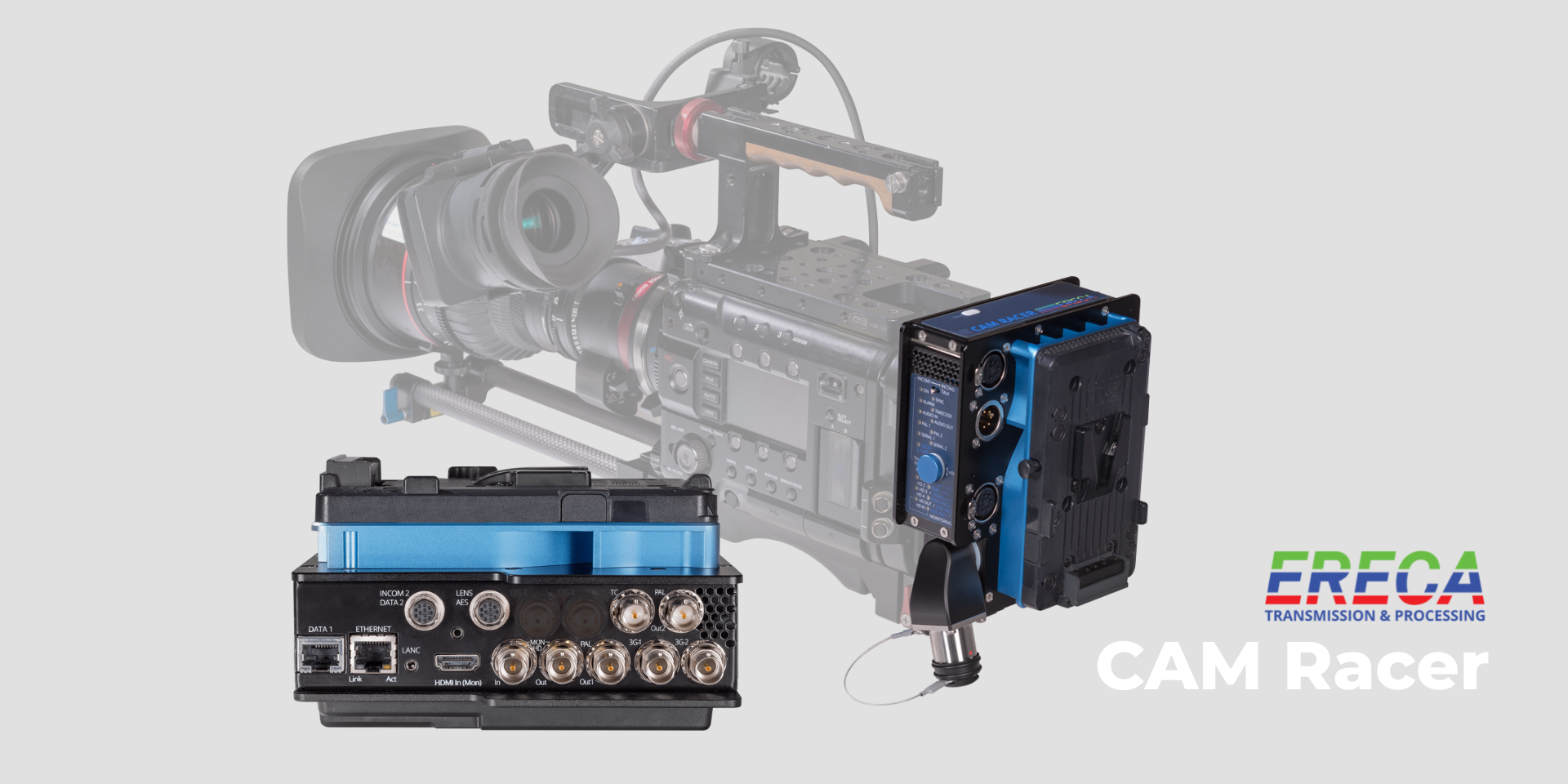 The CAM RACER is a unique solution for transmitting camera signals over long distances over optical fiber. Consisting of a transmitter that can be clipped onto the camera, regardless of the type or brand of camera, and a base receiver in a 1RU.
This solution is available in four different configurations ranging from 3G-SDI channels to 12G-SDI. It is ideal for any situation and can be used on any single ENG camera and even 8K cameras.
The CAM Racer supplies up to 140 Watts to the camera (60W in the Lite version). An automatic battery backup will help the remote power system if more power is suddenly needed.
The control and configuration of the signals are done through an internal web server. Most signals also appear on each unit's LED display. The OLED display gives direct access to the optical reception levels and the server's IP address.
An internal audio mixer allows the user to mix between talkback, program inputs, and local audio channels to the ENG camera or reporter's headsets.
Camera control channel supports Internet, RS422 Serial, Canon RC-V100 (Enhanced Lanc) protocol. Camera sync supports two composite video signals and one timecode.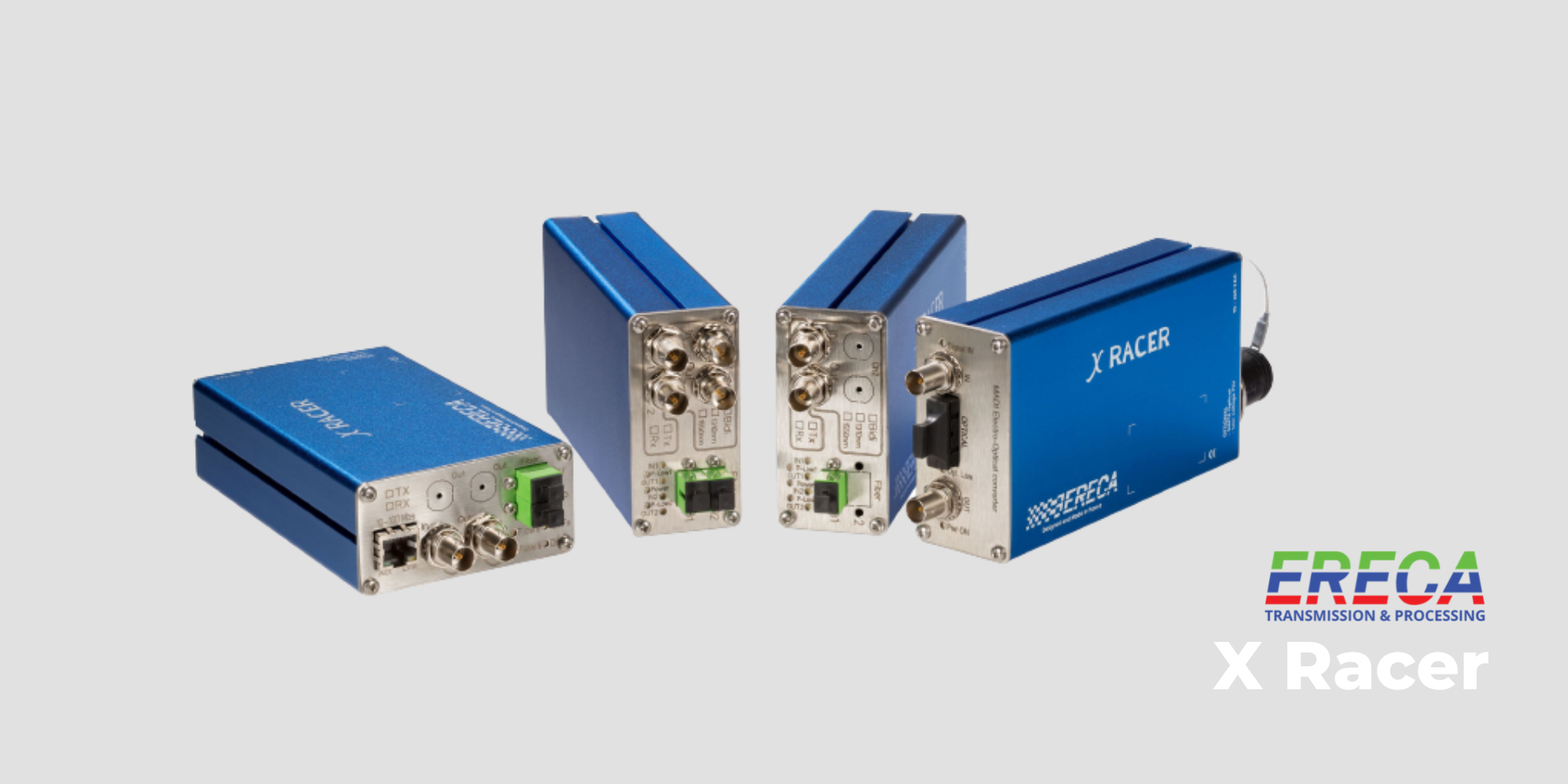 The X Racer Line is made up of several portable transmission units for Broadcast.
Each module has its own integrated power supply and is available with an optional SMPTE standard connector.
The standard models are:
3G/HD/SD Bidirectional + 100 Mb/s internet with 2 optical fibers and SC/APC connectors.
Bi-directional 3G/HD/SD with 1 fiber and with an SC/APC connector.
Bidirectional MADI signal converter with 2 optical fibers and an SC/PC connector.
Each module is equipped with a signal presence LED and an alarm LED for easy troubleshooting when there are problems.
Each 3G/HD/SD optical receiver performs a "reclocking" on the received signal and each transmitter has an equalizer.
Its size (42x86x150mm) allows it to be installed horizontally in a 1RU or vertically in a 2RU, allowing multiple units to occupy the smallest possible rack space.
Depending on the model, various options are available, eg multiple SDI outputs per module, low voltage power supply input on XLR4, or SMPTE Neutrik cable/LEMO connector instead of SC type.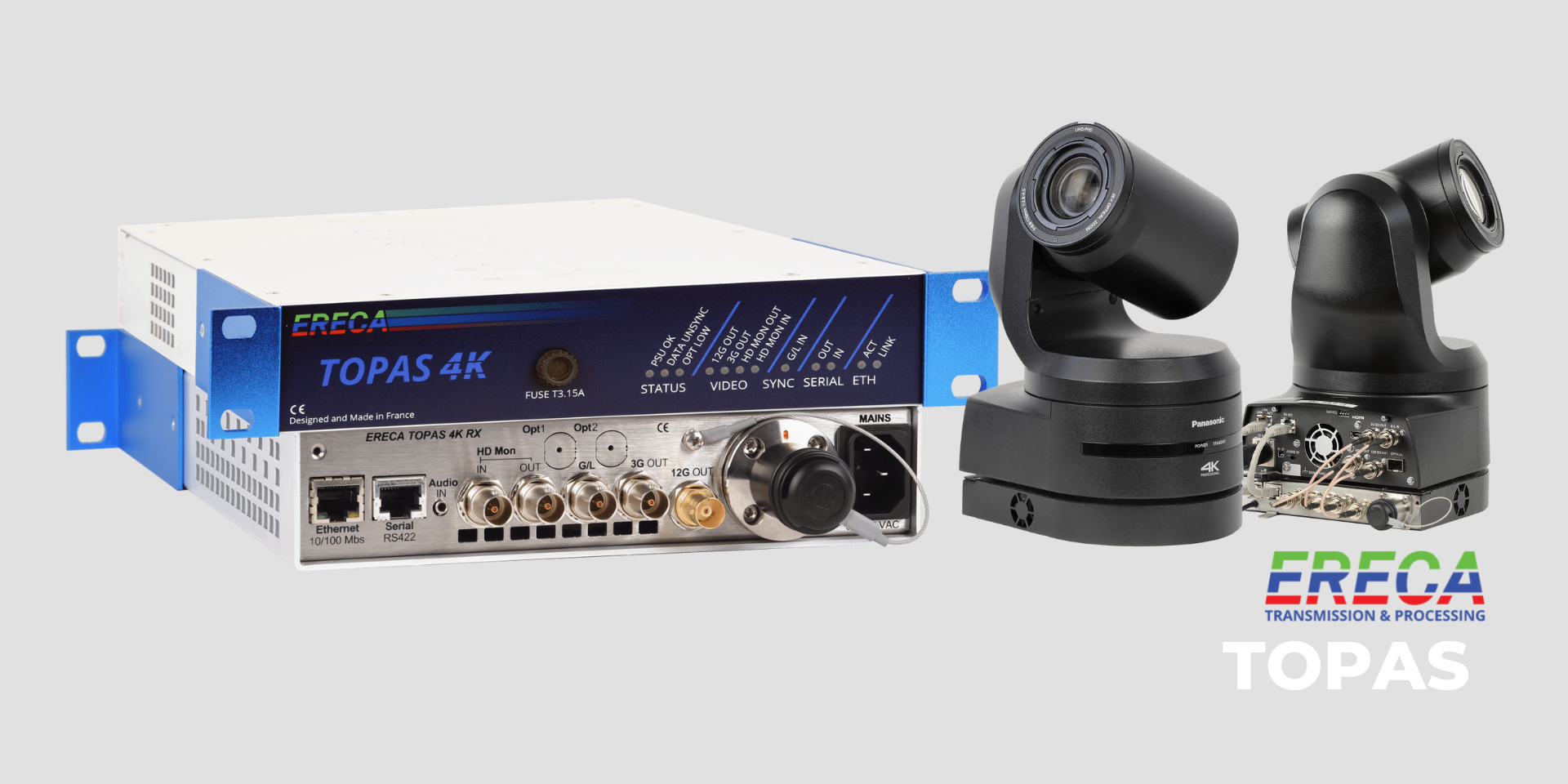 It is also worth noting the TOPAS solution, which allows you to extend video and audio, power, control, tally, and synchronization signals to more than 800m via SMPTE optical fiber (LEMO and NEUTRIK) for PTZ cameras of any brand.
Whether for an application in outdoor events, studios, auditoriums, or other places that demand high-quality transmissions over a long distance without any functional limitations, ERECA is the only solution on the market to meet these demands.
Want to know more about ERECA? Get in touch with us!