Part 1: General Information
Project: Fuel TV's quick international expansion required a complete system capable of managing programming, media archive and having channel-in-a-box capabilities for broadcast.
Fuel TV is a Portuguese-owned digital cable and satellite television channel mainly focused in action sports but also in youth culture, music and art. The channel was originally launched in 2003 by FOX and reached Portugal in 2007 through a representation agreement with Portuguese-based company FLUID Youth Culture SA, that would later change its name to FUEL TV EMEA as the business expanded to more than 40 countries in that region in the early 2010's. The channel was acquired by FUEL TV EMEA in 2014 and has continued its international expansion to this day, where it is currently available in more than a hundred countries around Europe, Asia, Oceania, Africa and Central America, reaching more than 200 million households.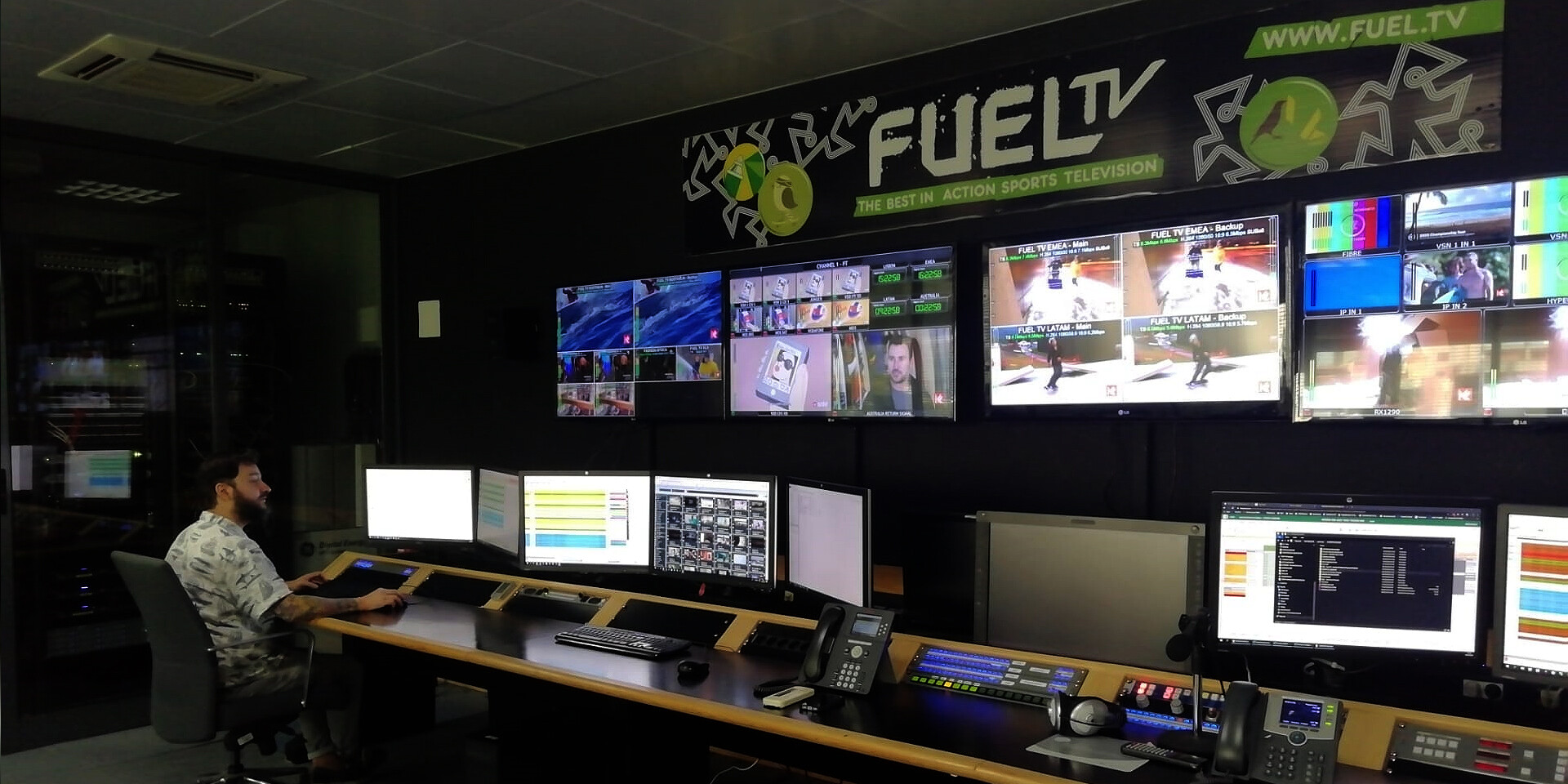 Part 2: The Challenge
Fuel TV was originally on the lookout a media archive solution, as they had many years' worth of media to archive and catalog.
Additionally, they were also looking to reduce the complexity of their usual workflows and automating as many processes as possible, improving content exchange and synchronization between archive, traffic and playout. Hence, the solution needed to integrate the production environment, renew the storage system and develop a tailored traffic and playout solution capable of handling correctly their growing international expansion through four different channels: FUEL TV Portugal, FUEL TV EMEA, FUEL TV APAC and FUEL US.
"When we contacted Pantalha for the implementation of a new system, FUEL TV was expanding its operations to new territories and as such we needed a solution that would allow us to speed up the signal delivery in various parts of the world, preferably over IP, as to also prepare deliveries for digital platforms (OTT).
The new feeds also brought a greater need for cooperation between our broadcast and programming departments, so a complete, integrated and as autonomous as possible solution was essential.
Since FUEL TV already had two feeds, one of which international, the transition between solutions would have to be made with the least possible impact, and with a reduction on the number of equipment to be installed, thus, the VSN OneTV equipment, CreaTV and VSN MAM were the ideal solutions for our needs, as they not only allowed us to scale the number of feeds to be delivered, but also to reduce the number of equipment in our facilities."
Eduardo Ribeiro - Head of Technical Operations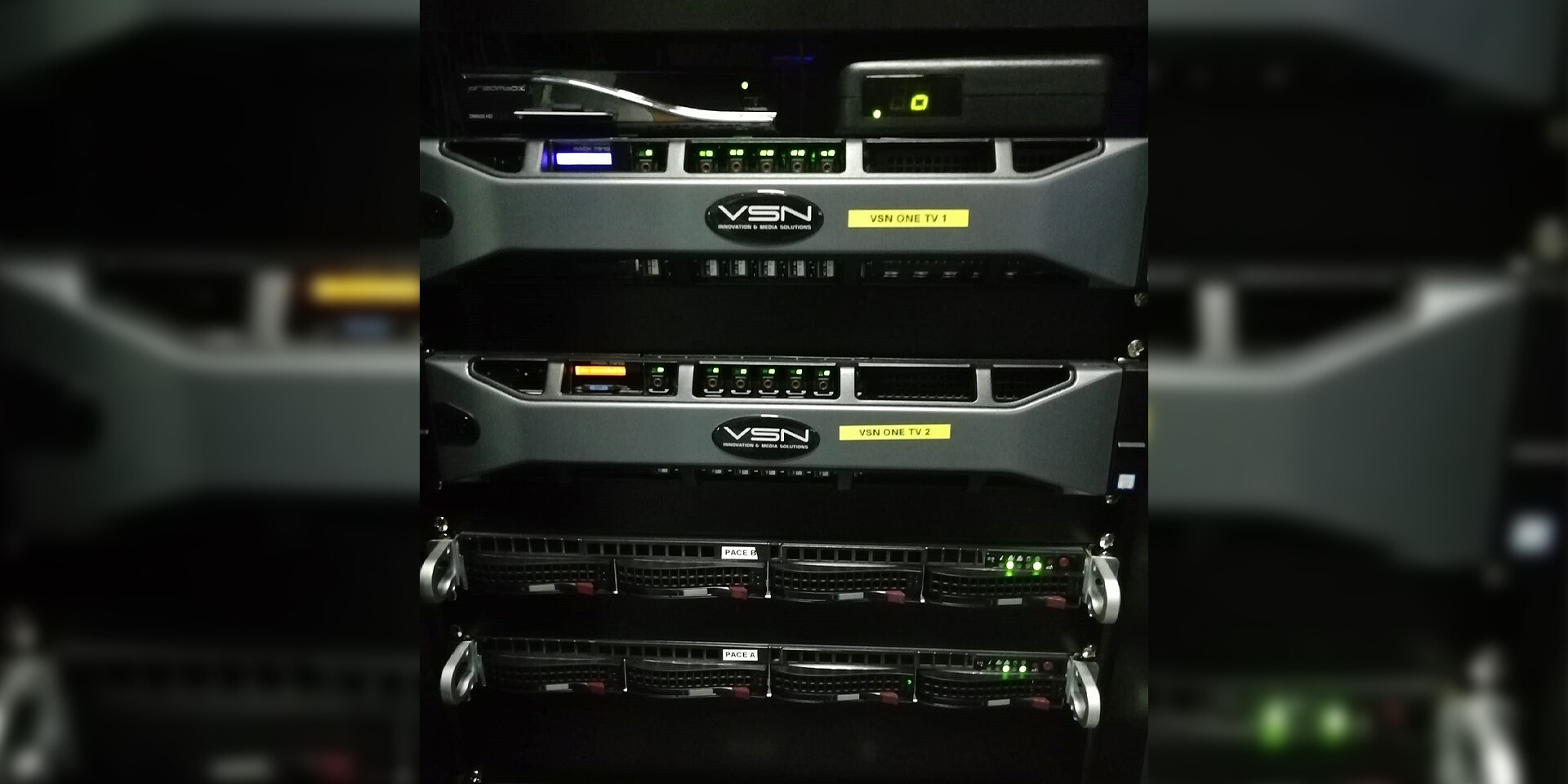 Part 3: The Solution
Playout
Managing four simultaneous channels input and output signal through IP was initially a great challenge for a solid playout solution, but after numerous tests it was possible to set up a VSNOneTV system with a compact configuration within a single server and a backup unit. Two channels could be ingested simultaneously while four of them were aired, with internal graphics and automation options and 12TB internal storage.
Fuel TV also required other customized and standard functions within OneTV capabilities that were added to the system later on: For example, different profiles for users, color-coding for content, two different time counters - one for Lisbon and one for where the content was being broadcast.
Additionally, VSNOneTV module was also customized to provide open subtitling and also allowed Fuel TV to distribute their content quickly to different platforms, CMS and WEBTV systems, as well as to Social Networks and YouTube in particular, where the channel is most active.
Traffic
Fuel TV broadcasted the same content through four different channels adapting their schedule and ads to each area (Portugal, European Union, APAC and the US). In order to manage traffic efficiently, VSNCrea simplified the process creating playlists and content creation options for the four of them, but also allowing to copy schedules between different channels without duplicating contents, as they had the same ID and could be replicated, easing programming overall.
As for the channel's own and outsourced productions with attached broadcast licenses, Crea also included license functionalities to manage the available numbers of runs, as well as the option to schedule automated reruns for certain shows, dealing with licenses with unlimited showings and broadcast dates, more than one EPG format and reports that could helped improving FUEL TV's programming efficiency by analyzing every asset included in the playlist, every acquisition order and a comparative between the results of own vs. external productions.
And while previously there were more users busy scheduling contents, Crea's automated nature allowed to automate most necessary traffic actions and simplify and enhance the work involved in the process.
Archive
FUEL TV wanted to manage the entire media archive to create automatic flows and have a quick video on demand system available. The starting point was not a centralized system but more than 100 TB worth of information stored in a NAS system or external hard drives with no master DB or formal organization and different sets of metadata. The contents were organized by programs and with up to three different managers. VSN worked out this data to provide a tailored solution through an adapted version of VSN Explorer MAM and a hardware upgrade to manage the assets.
The channels needs were met through VSN's central platform, VSNExplorer, a web-based tool that allowed to integrate the MAM module with the Central Storage, a NAS system (4x10G-SFP+) for shared edition with dual controllers and 16 4TB Hard drives with a gross capacity of 64TB.
Part 4: The network
Although composed with different solutions for each requirement, VSN's proposal was conceived and deployed as a single solution, as it required a networking upgrade to sync all the modules, completely changing the work process and automating several parts of it. Furthermore, new and automated Business Processes were implemented between Crea TV, VSN MAM and OneTv for the first time, as VSN was not only able to provide a customized upgrade for each of FUEL TV's needs, but also a complete networking reshape that had VSN's engineers working hand by hand with Fuel's personnel to assist them with any need that came up during the upgrade process.
Thanks to this solution, FUEL TV can nowadays count with a with a fully automated workflow for their entire archive, traffic and playout system that allows to work in a fluid way with multiple formats and third-party systems, without experiencing any incompatibilities. In addition, the entire company's media is now centralized under a web platform that offers all professionals the possibility of counting with quick and easy access to their work files, as well as promoting collaborative work between all of them.

"We are very satisfied with VSN's solutions, which allowed us to expand the total number of feeds we transmit to all points of the globe from our facilities, as well as deliver our signal to digital platforms. The integration between the different implemented systems, helped us to respond quickly and easily in the face of increasing operational needs that come from a greater number of feeds.
VSN engineers helped and accompanied us during the process of implementing the entire system, as well as in post-installation adjustments, which were not only essential for us to get the best out of the entire solution, but were also fundamental for adapting the solution to our needs.
The VSN MAM platform is today a fundamental part of our team, not only allowing us to store and catalog all of our content, but also allows us to control and customize the access of the entire team in order to automate and optimize all FUEL TV workflows.
Which leads us to conclude that the VSN solution was a good bet for the success of our technical operations."
Eduardo Ribeiro - Head of Technical Operations
2019